Recommended Reading Recommendation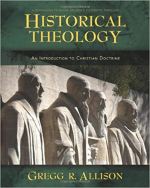 From Amazon.com: "Most historical theology texts follow Christian beliefs chronologically, discussing notable doctrinal developments for all areas of theology according to their historical appearance. And while this may be good history, it can make for confusing theology, with the classic theological loci scattered throughout various time periods, movements, and controversies. In Historical Theology, Gregg Allison offers students the opportunity to study the historical development of theology according to a topical-chronological arrangement, setting out the history of Christian doctrine one theological element at a time."
If you purchase from one of our Amazon.com links, we receive a small commission that helps support this site and does not cost you any extra.
Asbury Theological Seminary



Asbury Theological Seminary Quick Facts

Denominational Affiliation
Multi-Denominational with Wesleyan Emphasis

Founded
1923

Theological Orientation
Broadly Evangelical with Wesleyan Roots

Degrees Offered
MDiv; MA; ThM; DMin; PhD

Number of Students
c. 1,582

Tuition Costs for 2018 - 2019
$650 per credit hour (MDiv/MA)

Location
Wilmore, KY; Orlando, FL

School URL
asburyseminary.edu

Introduction to Asbury Theological Seminary

---
Founded in 1923, Asbury Seminary's motto is "The whole Bible for the whole world," which effectively summarizes Asbury's priorities in educating its students - a high view of Scripture and an emphasis on evangelism. While nondenominational, Asbury cherishes its Wesleyan roots and the student body reflects this heritage. Originally part of Asbury College (now Asbury University), the seminary has been a separate institution since 1940.

Academic Life

---
Asbury is organized under five schools: The School of Biblical Interpretation; The School of Practical Theology; The School of Theology and Formation; The School of Urban Ministries; The E. Stanley Jones School of World Mission and Evangelism.  Asbury currently offers five degrees: MDiv; MA (specializations available in a variety of areas); ThM (in either Biblical Studies or World Missions and Evangelism); DMin;PhD (in either Biblical Studies or Intercultural Studies). The school also offers certificates in certificates in Christian Studies and Christian Discipleship and Leadership.

Crucial to Asbury's master's level programs is "Mentored Ministry," a field education assignment lasting two or three semesters (depending on the program). Students are paired with a mentor to work on goals both within the church and the broader community. Group reflection on this experience is a weekly requirement.

In addition to the above programs, Asbury offers a Latino/Latina studies program, taught entirely in Spanish and offered completely at night to accommodate working students. Both certificate and BA programs are available in this LLSP (Latino/Latina Studies Program).

Asbury has two campuses - the main campus in Wilmore, KY and the new campus in Orlando, FL. Students can also complete 1/2 of their MA degree online and up to 2/3 of an MDiv degree online.
Student Life
---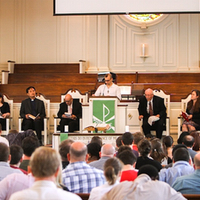 Asbury has a dedicated Student Services office to attend to the various needs of its students. Asbury is home to the Sherman-Thomas Student Center which provides numerous services to its students, including a fully equipped fitness area as well as dining hall. Numerous intramural sports teams are also available.

Asbury also offers chapel services three times a week during fall and spring semesters, often hosting a well-known guest speaker. While chapel is not required, most students elect to participate regularly.
Financial Aid

---
In addition to Federal Student Loans, Asbury offers a number of scholarships to both master's level and doctoral level students. Scholarships include the Kerns Scholarship, Presidential Scholarship, Dr. J. Ellsworth Kalas Pastoral Scholarships, and Postgraduate Scholarships for ThM and PhD students. DMin students are eligible for the Beeson Scholar Program.

Location
---
Review Asbury Theological Seminary
---
Share Your Seminary Experiences!
Did you attend or are you attending this school? Please help future students by sharing your experiences, pro and con. Thanks!
---
Seminary Advisor

›

Seminary Schools

› Asbury Theological Seminary