Recommended Reading Recommendation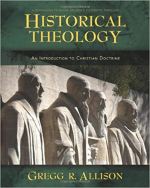 From Amazon.com: "Most historical theology texts follow Christian beliefs chronologically, discussing notable doctrinal developments for all areas of theology according to their historical appearance. And while this may be good history, it can make for confusing theology, with the classic theological loci scattered throughout various time periods, movements, and controversies. In Historical Theology, Gregg Allison offers students the opportunity to study the historical development of theology according to a topical-chronological arrangement, setting out the history of Christian doctrine one theological element at a time."
If you purchase from one of our Amazon.com links, we receive a small commission that helps support this site and does not cost you any extra.
Drew Theological School



Drew Theological School Quick Facts
Denominational Affiliation
United Methodist Church

Founded
1867

Theological Orientation
Moderate - Liberal

Degrees Offered
MDiv; MA; MAMin; STM; DMin; PhD

Number of Students
c. 435

Tuition Costs for 2018 - 2019
$34,900/yr

Location
Madison, NJ

School URL
drew.edu/theological-school/

Introduction to Drew Theological School
---
The history of Drew's Seminary (now Theological School) and Drew University are inseparable. Founded in 1867 as Drew Theological Seminary, the school was founded as a training ground for Methodist ministers. By 1928, the seminary had expanded to include a college of liberal arts and Drew University was founded. In the 1950s, the seminary was renamed and a graduate program of theological studies offering advanced degrees was born. Still today, Drew University's graduate school focuses upon the humanities, with theology being a core element of study.

Currently, Drew Theological School is one of 13 seminaries associated official with the United Methodist Church offering a wide range of graduate-level theology degrees.
Academic Life
---
Drew offers a number of master's level and advanced programs, including the MA; MAMin (Master of Arts in MInistry); MDiv; STM; DMin; and PhD. Drew also offers a number of non-credit programs for laity and clergy alike, in addition to certification programs in conjunction with the UMC. Drew has specific strengths in interdisciplinary programs in gender studies, feminism, and ecology and their relationship to theology.

Student Life
---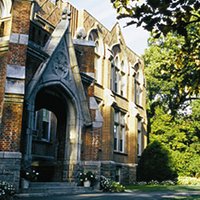 Drew's location itself offers much to its student body. Its northern NJ location places it near the vibrant New York metropolitan area with all that has to offer. Some of the world's greatest museums, galleries, and parks are less than an hour away. Philadelphia is also close and offers much to the student on a budget as well. Drew's campus, while located in a major metropolitan area, is situated in a bucolic 186-acre campus, offering a beautiful respite from the busyness of the surrounding metropolitan sprawl.

Drew's religiously diverse community offers a number of opportunities for group interaction and discussion. Whether it's Intervarsity Christian Fellowship or the Pagan Society, chances are there's a group you can join to share common interests. Drew itself offers interfaith chapel services where students of a wide range of perspectives are represented. Services are every Tuesday, Wednesday, and Thursday morning.
Housing

---
Drew has four dedicated residential facilities specifically for theological school students; however, demand is high and housing is not guaranteed. Students are strongly encouraged to secure housing as soon as attendance is confirmed.

Financial Aid

---
Drew offers several internal scholarships based on academic merit and need. MDiv students receive top priority with a few receiving full tuition plus a stipend. MA and STM students may receive up to 50% tuition and MAM students up to 75% (if they are pursuing ordination as United Methodist Deacons). PhD students receive 100% of tuition. Since financial aid is limited, Drew helps students look for outside scholarships that they can apply to their expenses.
Location
---
Review Drew Theological School

---
Share Your Seminary Experiences!
Did you attend or are you attending this school? Please help future students by sharing your experiences, pro and con. Thanks!
---
Seminary Advisor

›

Seminary Schools

› Drew Theological School