Gateway Seminary
(formerly Golden Gate Baptist Theological Seminary)



Gateway Seminary Quick Facts
Denominational Affiliation
Southern Baptist

Founded
1944

Theological Orientation
Conservative

Degrees Offered
MDiv; MTS; ThM; MAEL; MMiss; DMin; PhD

Number of Students
c. 2,200

Tuition Costs for 2015 - 2016
$260/hr (SBC students); $480/hr (non-SBC students)
Location
Mill Valley, CA; five regional campuses available in California, Washington, Arizona, and Colorado; administrative offices are maintained at the Mill Valley campus.

School URL
gs.edu
Introduction to Gateway Seminary

---
Mill Valley, CA may not seem like the best home for a Southern Baptist seminary (during the time of the Civil War, Southern Baptists agreed), but in the early 20th century after the SBC had renewed its commitment to plant churches in California, it soon became clear that a graduate school of theology was needed to train future pastors in the area. Growing out of the work of Isam B. Hodges and his position as pastor of First Southern Baptist Church of San Francisco, Golden Gate Seminary was established and classes started in 1944, held at the church. In time, the seminary would relocate to Mills Valley (still available as one of the five campuses).

Currently, Gateway has five campuses total, not counting their online campus. Students can attend classes in Northern California and Southern California as well as Arizona, Colorado, and Washington. From its humble beginnings, Gateway Seminary is now one of the largest seminaries in the world, regularly enrolling over 2,000 students.

Academic Life

---
Gateway offers numerous master's and doctoral level degrees. Currently, they offer the MDiv, MDiv Advanced Track (for students with signifiant study in biblical studies or theology), MA (Christian Counseling, Educational Leadership, and Intercultural Ministry), MMiss, and MTS. Students may complete the MTS or Master of Divinity completely online. Advanced programs include the DMin, ThM, and PhD (Biblical Studies or Theology).

Student Life

---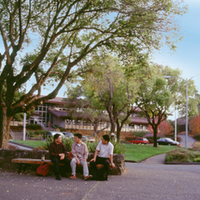 Of course, student life at Gateway Seminary depends on the campus one attends. There's a pretty big difference between Mill Valley, CA and Scottsdale, AZ. This overview will focus on the Mill Valley campus, since almost half of all GGBTS students attend there. Fortunately, GGBTS has a dedicated student services office to assist students with life outside of the classroom.

The Campus Life Association strives to facilitate community involvement and spiritual growth with ministries devoted to single students, married students, and multicultural relationships. There are numerous student groups, including African American Christian Fellowship, Korean Student Fellowship, History/Theology Club, and Student Wives Fellowship.

Throughout the semester, there are numerous opportunities to fellowship as a group, from the Ocean Beach Bonfire and Church Fair to the Welcome Back Pizza Party and Fall Fest. Corporate worship is also available every Thursday morning in Chapel. There are also various organized sports, including Co-Ed Volleyball and Co-Ed Basketball.

Being situated in the San Francisco Bay area also affords students to do everything from surfing to shopping. There is always something to do on the weekends, whether it's spending the day at Golden Gate Park, getting breakfast at Mama's or checking out Coit Tower.
Housing
---
Both the Northern and Southern California campuses of Gateway Seminary offer housing for all full-time students. At the Northern campus, units are available for single students, married students, and students with children. The Southern campus provides housing in conjunction with Hope International University. The rates for on-campus housing are extremely affordable, especially given the cost of living in California. Other campuses are commuter campuses only, favoring students who already live in the area.

Financial Aid

---
Due to the generosity of the SBC, all students receive subsidized tuition costs. Students who are currently members of an SBC congregation receive further discounts (roughly half the cost that non-SBC members pay). In addition to the already-low tuition costs, students may apply for additional financial aid in the form of endowed scholarships to cover tuition. Some scholarships are available for specific campuses. It should be noted that Gateway financial aid may be used only for tuition, not rent or other fees. Also, Gateway does not participate in Federal Student Loan programs, so this should be factored into your decision making.

Location
---
Review Gateway Seminary
---
Share Your Seminary Experiences!
Did you attend or are you attending this school? Please help future students by sharing your experiences, pro and con. Thanks!
---
Seminary Advisor

›

Seminary Schools

› Gateway Seminary