Recommended Reading Recommendation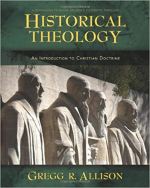 From Amazon.com: "Most historical theology texts follow Christian beliefs chronologically, discussing notable doctrinal developments for all areas of theology according to their historical appearance. And while this may be good history, it can make for confusing theology, with the classic theological loci scattered throughout various time periods, movements, and controversies. In Historical Theology, Gregg Allison offers students the opportunity to study the historical development of theology according to a topical-chronological arrangement, setting out the history of Christian doctrine one theological element at a time."
If you purchase from one of our Amazon.com links, we receive a small commission that helps support this site and does not cost you any extra.
Payne Theological Seminary Review: Down to Earth Experiences
by S. Carolyn Thomas
(Salinas, CA)
As was Bishop Payne, for which the seminary received the name, Payne Theological Seminary is far-reaching, and far-seeing. Its leadership through the years has had foresight and credibility, offering students and practitioners a superb leadership. What does this mean?


Let me tell a little bit of my story. I was a graduate student in Blacksburg, VA and felt the need to worship with people who knew how good God is. It was there that I discovered the African Methodist Episcopal Church. When I redisposed to Ohio, specifically in Cincinnati, Ohio, I was immediately directed to a children's program and it turned out to be connected to, and conducted by the AME Church.
Later when I looked about for a position where my children and I could continue to grow...(my husband was no longer traveling with us)...the pastor suggested that I look to the seminary in Wilberforce, Ohio. At least two of my sisters and a brother had attended college in the Wilberforce Community, so I was not seeking unknown, but familiar surroundings.
My children and I found an apartment in Yellow Springs-not too far away. However there were perfectly wonderful apartments on campus. All were occupied.
Though we lived off campus, we were totally a part of the Payne Theological Community--invited to all events on and off campus.
The most outstanding quality of my African Methodist Episcopal Associates is that of knowing Christ. Through my affiliation therewith I found how real and present God is. Jesus, God the Son, abides with us all day every day wherever we go. Whether in California or Massachusetts---whether South Carolina or Tennessee, I can find a church that is welcoming, and a congregation that knows... that in Christ there is "One Great Fellowship of Love."
I have not yet received the Master of Divinity Degree. My hope is to return to Payne and finish that milestone, if such is the Will of our Father in Heaven. My children are grown and I even have a grandson who is in college. God has dealt wonderfully with me...and I can truly say that stumbling into the AME Church in Blacksburg, Virginia is still the BEST THING THAT EVER HAPPENED TO US. We would never have experienced Payne Theological Seminary had we missed the opportunity to worship with saints and sinners in a barren land. Even as I have entered that which we stamp as "retired" years, I long to return to Payne Theological Seminary and perhaps finish a degree which I started many years ago.