Recommended Reading Recommendation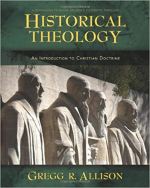 From Amazon.com: "Most historical theology texts follow Christian beliefs chronologically, discussing notable doctrinal developments for all areas of theology according to their historical appearance. And while this may be good history, it can make for confusing theology, with the classic theological loci scattered throughout various time periods, movements, and controversies. In Historical Theology, Gregg Allison offers students the opportunity to study the historical development of theology according to a topical-chronological arrangement, setting out the history of Christian doctrine one theological element at a time."
If you purchase from one of our Amazon.com links, we receive a small commission that helps support this site and does not cost you any extra.
Perkins School of Theology



Perkins School of Theology Quick Facts
Denominational Affiliation
Methodist

Founded
1911

Theological Orientation
Moderate

Degrees Offered
MDiv; CMM (Master of Church Ministries); MSM (Master of Sacred Music); MTS; DMin

Number of Students
c. 407

Tuition Costs for 2017 - 2018
$961/hr

Location
Dallas, TX

School URL
smu.edu/perkins
Introduction to Perkins School of Theology
---
The history of Perkins School of Theology is intertwined with the history of Southern Methodist University itself. The school was founded in 1911 with the School of Theology's first classes starting in 1914, a year before the University's classes began. At first, the school was founded to serve ministry students in the western half of the country. At present, Perkins is one of 13 official United Methodist seminaries. The current name was bestowed in 1945 thanks to the generous gift from the Perkins family from Wichita Falls, TX.

Perkins is the home to the Bridwell Library, considered one of the finest theological libraries in the nation, currently containing almost 400,00 volumes in various theological disciplines. Roughly 65% of the students are United Methodist with many other denominations and groups also represented.

Academic Life

---
As a seminary that exists as part of a larger university, SMU's Perkins SOT offers students a vast amount of resources regarding both number of faculty as well as other perks afforded students of larger universities. In addition to the MA and PhD offered by the SMU Graduate School, Perkins offers the MDiv, CMM, MSM, MTS, and DMin. Should they choose, students in the MDiv and MTS programs are able to earn certificates in an area of concentration: African-American Studies, Anglican Studies, Hispanic Studies, Pastoral Care, Urban Ministries, and Women's Studies.

Student Life

---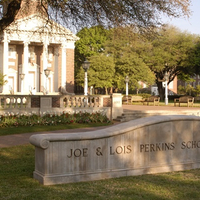 Perkins students benefit greatly by having access to the same resources that all SMU students enjoy, in addition to being in a vibrant metropolitan area. Perkins itself offers numerous student organizations for students to explore, from the Black Seminarians Association to the Young Adult Seminarians Network.

Members of the Perkins community gather during the week for a community lunch to share updates about one another and the community itself. Informal seminars (Community Hour at Perkins - CHAP) are also led by faculty members and other parties on a variety of topics.

A variety of resources are available to Perkins students. All students receive free basic health care through the SMU Health Center. Students also have access to the Dedman Center for Lifetime Sports, offering a wide range of activities from weight training to a climbing wall. Three pools are also available for student use.

Housing
---
SMU offers generous housing to Perkins students. Centrally-located apartments (Hawk Hall and Martin Hall) are available to single students, married students, and students with children. The off-campus housing office also offers assistance in finding apartments and roommates.

Financial Aid

---
Perkins offers several need-based grants and merit-based scholarships. Perkins Tuition Grants are available to both full-time and part-time students. For students in the MDiv, CMM, and MTS programs, Dean's Honor Scholarships are available. For a select number of students, Perkins offers Prothro fellowships or scholarships. United Methodist students also have access to a number of funds set aside for students preparing for ministry. Perkins also participates in Federal Financial Aid programs and assists students in finding outside scholarships as well as employment.

Location
---
Review Perkins School of Theology
---
Share Your Seminary Experiences!
Did you attend or are you attending this school? Please help future students by sharing your experiences, pro and con. Thanks!
---
Seminary Advisor

›

Seminary Schools

› Perkins School of Theology