The Bondage of the Will by Martin Luther

Martin Luther's The Bondage of the Will is Luther's response to his contemporary Desiderius Erasmus about the nature of free will, and Luther himself considered it one of his greatest works. Erasmus insisted that man's free will could choose salvation whereas Luther insisted that only God's grace could allow men to come to salvation. Though Luther was himself a well-qualified academic, for him this was no mere academic question. Indeed, it was his theology of free will, grace, and predestination that ultimately led both to the Protestant Reformation and reforms within the Catholic Church.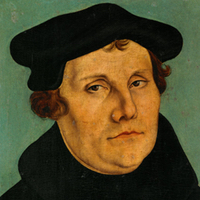 The Influence of Martin Luther
Even non-theologians or amateur students of history know very well that Martin Luther changed the course of Western Civilization when he nailed his 95 theses to the church door in Wittenburg. Luther's contributions to the church, theological doctrine, and even to the role of the individual in Western thought are often considered without parallel. Luther challenged the corruptions of the Roman Catholic church (and the selling of salvation through indulgences) as well as its defenders such as Erasmus.
Luther's insistence that individuals could read and interpret scripture on their own without mediation led to both increased literacy as well as helped foster the Renaissance ideals of the power of the individual. His emphasis on individual interpretation of scripture prompted a demand for a translation for the laity, a common-tongue translation rather than the traditional Latin text reserved for the clergy. 
To this very day, Luther's translation of the Bible into German is still considered a masterpiece. Perhaps even more important is the influence that Luther exhibited over his contemporaries, including men such as William Tyndale. It is safe to say that without Martin Luther the English Bible itself would have had a much different history.
The Essence of The Bondage of the Will
For Luther, man's will is marred by sin. We are unable to choose salvation on our own merits, and our attempts to earn God's favor will always fall short.  Indeed, Luther maintains that man cannot even come to belief without God's grace enabling him to do so. Luther writes in On The Bondage of the Will, "Let all the 'free-will' in the world do all it can with all its strength; it will never give rise to a single instance of ability to avoid being hardened if God does not give the Spirit, or of meriting mercy if it is left to its own strength." So in the end, God is the ultimate source of man's salvation - human beings owe everything to God as the source of unmerited grace.
---
Advertising Disclosure: SeminaryAdvisor.org may be compensated in exchange for featured placement of certain sponsored products and services, or your clicking on links posted on this website. Specifically, we are part of the Amazon.com Associates Program.

Seminary Advisor

›

Recommended Readings

› The Bondage of the Will