Recommended Reading Recommendation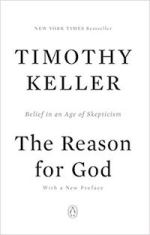 From Amazon.com: "Timothy Keller, the founding pastor of Redeemer Presbyterian Church in New York City, addresses the frequent doubts that skeptics, and even ardent believers, have about religion. Using literature, philosophy, real-life conversations, and potent reasoning, Keller explains how the belief in a Christian God is, in fact, a sound and rational one. To true believers he offers a solid platform on which to stand their ground against the backlash to religion created by the Age of Skepticism. And to skeptics, atheists, and agnostics, he provides a challenging argument for pursuing the reason for God." 
If you purchase from one of our Amazon.com links, we receive a small commission that helps support this site and does not cost you any extra.
Ashland Theological Seminary



Ashland Theological Seminary Quick Facts

Denominational Affiliation
Brethren Church/Interdenominational

Founded
1906

Theological Orientation
Broadly Evangelical

Degrees Offered
MDiv; MA; DMin

Number of Students
c. 800

Tuition Costs for 2017 - 2018
$630/hr (MDiv and MA)

Location
Ashland, OH

School URL
seminary.ashland.edu
Introduction to Ashland Theological Seminary

---
Asland Seminary defines itself without apology as "broadly evangelical," having taken seriously the charge of preparing men and women for preaching and teaching the gospel for over a century. This mission is part of the history of Ashland University itself, with training for the ministry part of the school's original founding. In its current incarnation, the seminary stresses sound doctrine coupled with a sincere desire to share the gospel with the world. Ashland Seminary's core values recognize a devotion to scripture, spiritual development, community life, and academic rigor.

Academic Life

---
Ashland offers the MDiv, MA (Practical Theology; Biblical Studies; Historical Studies; Theological Studies; Religion; Clinical Mental Health Counseling; Counseling), and DMin Degrees. They also offer numerous diploma and certificate programs for those people unable or unwilling to pursue an MDiv or MA.

Student Life

---
As part of Ashland University, the seminary has much to offer its students regarding life outside of the classroom. Students have access to the AU recreation center, which offers numerous individual and group activities, from intramurals and Sports Clubs to yoga, aquatics, running, racquetball, and tennis. There's even a climbing wall for daring students. Should you get injured (or have a bad cold), all students may visit the on-campus Ashland Health Center. Students also have access to the Smetzer Counseling Center for no charge.

Of course, Ashland takes the spiritual formation of its students very seriously. As such, the entire community is encouraged to attend chapel on Wednesday mornings from 9:40 am - 10:20 am. The school also offers opportunities for students to join prayer groups as well as pray for other students and members of the community.
Housing
---
Ashland offers numerous housing options for both single and married students, as well as students with pets. There are efficiency, one, two, and three bedroom apartment options, as well as seminary-owned owns (priority given to families with children). The rates are highly competitive with the surrounding housing market, and the housing is maintained to facilitated a community environment amongst students.

Financial Aid

---
While Ashland doesn't have the "deep pockets" of many seminaries or divinity schools, they nevertheless work with the students, their families, and home churches to ensure that any qualified student can attend Ashland without undue hardship. Both need-based and merit-based awards are available, as are scholarships for Brethren Church members and those involved in student ministry. Paid internships are also available.

Location
---
Review Ashland Theological Seminary

---
Share Your Seminary Experiences!
Did you attend or are you attending this school? Please help future students by sharing your experiences, pro and con. Thanks!
---
Seminary Advisor

›

Seminary Schools

› Ashland Theological Seminary