Recommended Reading Recommendation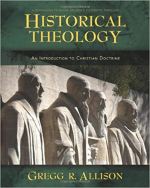 From Amazon.com: "Most historical theology texts follow Christian beliefs chronologically, discussing notable doctrinal developments for all areas of theology according to their historical appearance. And while this may be good history, it can make for confusing theology, with the classic theological loci scattered throughout various time periods, movements, and controversies. In Historical Theology, Gregg Allison offers students the opportunity to study the historical development of theology according to a topical-chronological arrangement, setting out the history of Christian doctrine one theological element at a time."
If you purchase from one of our Amazon.com links, we receive a small commission that helps support this site and does not cost you any extra.
Austin Presbyterian Theological Seminary


Austin Presbyterian Theological Seminary Quick Facts
Denominational Affiliation
Presbyterian (USA)

Founded
1902

Theological Orientation
Moderate

Degrees Offered
MDiv; MAMP; MTS; MATS

Number of Students
c. 260

Tuition Costs for 2018 - 2019
$233/cr

Location
Austin, TX

School URL
austinseminary.edu
Introduction to Austin Presbyterian Theological Seminary
---
Austin Seminary was founded in 1902 to prepare Presbyterian ministers in the ever-growing Southwest region of the United States. Originally part of the The Synod of Texas of the Presbyterian Church in the United States, the seminary is now one of ten PCUSA seminaries in the United States, though the school welcomes students from a wide range of church backgrounds.

Academic Life
---
Offering the MDiv, MATS, MAMP, and DMin degrees, the seminary's academic programs are divided into three divisions: the Biblical Department; the Department of the Church's Ministry; the Theological-Historical Department. Austin Seminary currently has 18 faculty members in these areas. All students are required to participate in the seminary's Supervised Practice of Ministry (SPM) either during a full-year internship, a three month summer internship, or the teaching church program (where students attend classes part-time). A dual degree in Divinity and Social Work is available in conjunction with the University of Texas at Austin.
Student Life
---
Several areas of support and community-building are available to students at Austin Seminary. The office of Student Affairs and Vocation (or SAV) provides structured support for students and their families, offering guidance both vocationally and spiritually.

Numerous student groups are available, including the African-American Student Group, the Choir, the Hispanic Student Association, Methodist Student Group, Philosophy Club, SoS (Supporters of Seminarians).  The seminary also offers the "Ministers Facing Money" program, designed to help students and their families better manage their financial resources.
Of course, Austin itself is one of the "creative capitals" of the world both musically and artistically, and students are encouraged to take advantage of all that the surrounding city has to offer.
Financial Aid

---
Austin Seminary has generous financial aid available in the form of both need-based grants (up to 85% of tuition) as well as merit-based scholarships and fellowships.  The most prestigious award - The Crawley Fellowship - provides an annual stipend of $30,000. On-campus student employment is also available. For Presbyterian (PCUSA) students, significant financial aid is available in the form of Presbyterian Study Grants with awards ranging from $500 - $4,000.

Location
---
Review Austin Presbyterian Seminary

---
Share Your Seminary Experiences!
Did you attend or are you attending this school? Please help future students by sharing your experiences, pro and con. Thanks!
---
Seminary Advisor

›

Seminary Schools

› Austin Presbyterian Theological Seminary