Recommended Reading Recommendation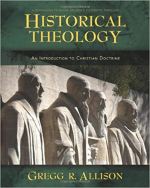 From Amazon.com: "Most historical theology texts follow Christian beliefs chronologically, discussing notable doctrinal developments for all areas of theology according to their historical appearance. And while this may be good history, it can make for confusing theology, with the classic theological loci scattered throughout various time periods, movements, and controversies. In Historical Theology, Gregg Allison offers students the opportunity to study the historical development of theology according to a topical-chronological arrangement, setting out the history of Christian doctrine one theological element at a time."
If you purchase from one of our Amazon.com links, we receive a small commission that helps support this site and does not cost you any extra.
Baptist Missionary Association Theological Seminary


Baptist Missionary Association
Theological Seminary Quick Facts
Denominational Affiliation
Baptist

Founded
1955

Theological Orientation
Conservative

Degrees Offered
MDiv; MA

Number of Students
c. 68

Tuition Costs for 2018 - 2019
$220/hr

Location
Jacksonville, TX

School URL
bmats.edu
Introduction to Baptist Missionary Association
Theological Seminary

---
The Baptist Missionary Associations was founded in 1950, with the seminary being formed in 1955 in Jacksonville, TX. BMATS emphasizes education for the ministry of the local church and, though a relatively small seminary, fosters close community amongst its students, staff, and faculty. Students may pursue either graduate-level or undergraduate degrees. Despite a small class size and small town setting, the seminary is fully SACS and ATS accredited.

Academic Life

---
BMATS is somewhat unique in its degree offerings compared to many schools. Degrees traditionally associated with seminary study such as the Master of Divinity, Master of Arts in Church Ministries, and Master of Arts (Religion) are offered, but the school also offers a Bachelor of Arts in Religion and the rare Associate of Arts in Divinity. In addition to their traditional onsite offerings, BMATS offers most of their programs completely online, including some free courses.

Student Life

---
Though a small campus, BMATS is located on a beautiful campus in East Texas, with strong community emphasis. Whether worshipping in Dorman Memorial Chapel (services held twice a week) or fellowshipping in the Gregson Center, BMATS students form a close-knit community.  Formal student organizations include the Student Council, Seminary Women's Auxiliary, Student Life Committee, and Religious Life Committee.
The seminary also hosts several onsite lectures during the school year, including the Brand Lectures, William Newton Paschal Memorial Bible Lectures, and Darby-Beal Lectures. During the spring semester the semester also sponsors Spiritual Emphasis Week, focusing on revival and renewal.

Students at BMATS can enjoy the quiet life of small town during their time at seminary, with roughly 14,000 residents currently living in Jacksonville. For those who seek a taste of large-city life and culture, Dallas is about two hours away.

Housing
---
Numerous affordable housing options are available, including several one and two bedroom apartments adjacent to campus. A few larger size apartments are available as is dormitory-style living for those who prefer it. For commuting students, temporary housing is also available.
Financial Aid

---
Tuition at BMATS is incredibly affordable (currently less than $600 per course), which should be factored into a student's understanding of paying for a BMATS education. Coupled with its affordability, the seminary still offers need-based scholarships depending upon the availability of resources. The seminary also participates in the Federal Direct Student Loan program.

Location
---
Review Baptist Missionary Association Theological Seminary
---
Share Your Seminary Experiences!
Did you attend or are you attending this school? Please help future students by sharing your experiences, pro and con. Thanks!
---
Seminary Advisor

›

Seminary Schools

› Baptist Missionary Association Theological Seminary