Recommended Reading Recommendation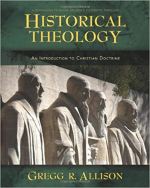 From Amazon.com: "Most historical theology texts follow Christian beliefs chronologically, discussing notable doctrinal developments for all areas of theology according to their historical appearance. And while this may be good history, it can make for confusing theology, with the classic theological loci scattered throughout various time periods, movements, and controversies. In Historical Theology, Gregg Allison offers students the opportunity to study the historical development of theology according to a topical-chronological arrangement, setting out the history of Christian doctrine one theological element at a time."
If you purchase from one of our Amazon.com links, we receive a small commission that helps support this site and does not cost you any extra.
Calvin Theological Seminary



Calvin Theological Seminary Quick Facts
Denominational Affiliation
Christian Reformed Church

Founded
1876

Theological Orientation
Reformed/Evangelical

Degrees Offered
MDiv; MA; MTS; ThM; PhD

Number of Students
c. 380

Tuition Costs for 2018 - 2019
$484/hr for MA, MDiv, and ThM (varies dependent on program)

Location
Grand Rapids, Michigan

School URL
calvinseminary.edu
Introduction to Calvin Theological Seminary
---
Calvin Seminary was formed in 1876 with the explicit goal of training ministers in the Christian Reformed Church. By 1920, the Seminary had evolved to include Calvin College, with which it still maintains a strong relationship. Calvin is known for its rigorous curriculum and its strong commitment to the Reformed tradition.

Not content with mere academic excellent, Calvin also seeks to educate the entire student, academically and spiritually. Small class sizes and nurturing relationships with faculty members are a defining part of the Calvin Seminary experience. The seminary has roughly 300 students in any given year, with well over 40 different denominations represented.

Academic Life

---
While Calvin Seminary is unapologetically committed to the Reformed Tradition and to academic rigor, this does not come at the expense of the student's spiritual life or preparation for real-world ministry. Calvin offers several master's level degrees (including the MDiv, MTS, and MA in a variety of concentrations) as well as the ThM and PhD (available in systematic, historical, philosophical, or moral theology). Calvin also offers online options for the MDiv and MTS degrees where the programs can be completely fully online.

Calvin also offers numerous diploma, certificate, and continuing education courses. For example, people interested in ministry can work towards the Diploma in Ministry. While not a degree program, the courses are transferable to Calvin's MA or MDiv programs and, if the student wishes, can be completed 100% online.
Student Life

---
Calvin offers several ways for students to get involved in both the seminary community and the surrounding area. Numerous seminary-sponsored publications are available as are several student organizations and seminary-sponsored social activities. Seminary students have access to all the benefits that Calvin College offers, including several fitness activities and college-sponsored cultural events. Grand Rapids also offers a number of activities and events for seminary students. Both individual and group counseling is available at a highly subsidized rate. There are also ministries available to spouses and families.

Financial Aid
---
Calvin offers both scholarships and institutional loans and participates in Federal Student Loan programs as well. Numerous scholarships are available, ranging from $1,000 to $10,000 per year. Doctoral students are eligible for tuition scholarships, fellowships, assistantships, and living stipends.

Location
---
Review Calvin Theological Seminary

---
Share Your Seminary Experiences!
Did you attend or are you attending this school? Please help future students by sharing your experiences, pro and con. Thanks!
---
Seminary Advisor

›

Seminary Schools

› Calvin Theological Seminary