Recommended Reading Recommendation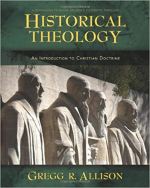 From Amazon.com: "Most historical theology texts follow Christian beliefs chronologically, discussing notable doctrinal developments for all areas of theology according to their historical appearance. And while this may be good history, it can make for confusing theology, with the classic theological loci scattered throughout various time periods, movements, and controversies. In Historical Theology, Gregg Allison offers students the opportunity to study the historical development of theology according to a topical-chronological arrangement, setting out the history of Christian doctrine one theological element at a time."
If you purchase from one of our Amazon.com links, we receive a small commission that helps support this site and does not cost you any extra.
Campbell University Divinity School



Campbell University Divinity School Quick Facts
Denominational Affiliation
Baptist

Founded
1995

Theological Orientation
Conservative/Moderate

Degrees Offered
MDiv; MA (Christian Ministry); MDiv/MBA; MDiv/MA (Mental Health Counseling); MDiv/JD; DMin

Number of Students
c. 157

Tuition Costs for 2018 - 2019
$495/hr

Location
Buies Creek, NC

School URL
divinity.campbell.edu
Introduction to Campbell University Divinity School

---
Part of Campbell University, founded by Baptist minister James Archibald Campbell in 1887, the Divinity School opened its doors in 1996. The school's motto - Christ-centered, Bible-based, and Ministry-focused theological education - informs the entire process of a Campbell Divinity School education, from admissions to graduation. Students are mentored by faculty and staff to help solidify their personal and professional callings to ministry.

Academic Life

---
Campbell offers two master's-level degrees, the MDiv and MA in Christian Ministry. Several dual degree programs are offered as well, including the MDiv/MBA, MDiv/MA (Mental Health Counseling), and MDiv/JD. The seminary also offers the DMin degree.
Several certificate programs are offered by the school, with concentrations in Preschool and Children's Ministry, Youth Ministry, Biblical Studies, Music and Worship, and Christian Women in Leadership.

Student Life

---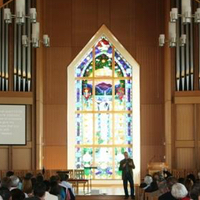 Students at the Divinity School have a host of resources available to them from both the larger Campbell University community as well as the Divinity School itself. Students may make use of most Campbell University amenities, including excellent recreational facilities, from Campbell University football games to the Holding Fitness Center. Students also have access to a twenty-seven hole golf course and an Olympic size swimming pool. Students also have access to the Campbell University's Health Center.

Other activities that students may participate in through the university is the Artist Series, Ministers' Continuing Education Lectures, movies, intramurals, and more.

The Divinity School offers weekly chapel services on Tuesday mornings as well as numerous other activities specifically focused on spiritual formation throughout the school year, including retreats and classes devoted to spiritual theology.  And though not a place to offer many cultural outings, the location of Buies Creek, NC is an idyllic place to study and host a family.

Housing
---
Although Campbell University does not have dedicated housing for its Divinity School students, the university does provide helpful information for students who are looking for housing in Buies Creek and surrounding areas. Housing is generally affordable for students and their families.

Financial Aid

---
Campbell offers numerous forms of financial to help offset the cost of attendance. Each year, up to four full-tuition scholarships are awarded to students who have a minimum 3.3. grade point average and who demonstrate promise for ministry.

A number of endowed scholarships are also available to students based on various prescribed criteria, including minimum gpa. Additional scholarships include Cooperative Baptist Fellowship Leadership Scholarships, Cooperative Baptist Fellowship of North Carolina Scholarships, and the Charles B. Keesee Educational Fund. Campbell University itself offers need-based aid dependent upon the availability of resources.

Location
---
Review Campbell University Divinity School

---
Share Your Seminary Experiences!
Did you attend or are you attending this school? Please help future students by sharing your experiences, pro and con. Thanks!
---
Seminary Advisor

›

Seminary Schools

› Campbell University Divinity School