Recommended Reading Recommendation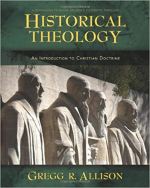 From Amazon.com: "Most historical theology texts follow Christian beliefs chronologically, discussing notable doctrinal developments for all areas of theology according to their historical appearance. And while this may be good history, it can make for confusing theology, with the classic theological loci scattered throughout various time periods, movements, and controversies. In Historical Theology, Gregg Allison offers students the opportunity to study the historical development of theology according to a topical-chronological arrangement, setting out the history of Christian doctrine one theological element at a time."
If you purchase from one of our Amazon.com links, we receive a small commission that helps support this site and does not cost you any extra.
Claremont School of Theology


Claremont School of Theology Quick Facts
Denominational Affiliation
United Methodist Church
Founded
1885
Theological Orientation
Moderate-Liberal
Degrees Offered
MA; MDiv; DMin; PhD
Number of Students
c. 286
Tuition Costs for 2018 - 2019
$24,000 for full-time MDiv students
Location
Claremont, CA
School URL
cst.edu
Introduction to Claremont School of Theology
---
Founded originally as the Maclay School of Theology in 1885, Claremont School of Theology has a rich history (including over fifty years as part of the University of Southern California) and is currently one of thirteen seminaries that maintains an official relationship with the United Methodist Church. Despite this official relationship, both the student body and the faculty represent numerous different denominations and groups. From its inception, CST has been committed to interreligious dialogue and ecumenism.
Academic Life
---
Claremont School of Theology offers numerous master's and doctoral level programs with a variety of emphases. Students may pursue the standard MDiv degree with three different "modes" - Ministerial Leadership (onsite), Ministerial Leadership (hybrid/online), and Interfaith Chaplaincy (onsite). MA degrees are also available - the  MA in Ministry, Leadership, and Service and MA in Religion. 
There are three doctoral level degrees available as well - the DMin (with emphases in either Practical Theology of Healing, Reconciliation and Transformation in Korean Contexts or Spiritual Renewal, Contemplative Practice and Strategic Leadership), the PhD in Practical Theology (concentrations in either Spiritual Care and Counseling or Education and Formation) and the PhD in Religion (concentrations available in Hebrew Bible and Jewish Studies; New Testament and Christian Origins; Comparative Theology and Philosophy; Process Studies; and Religion, Ethics and Society).
Student Life
---
Students at Claremont have access to a wide range of on-campus activities and groups to ensure that the student body can extend their learning beyond the classroom and build a vibrant campus community. Students can enjoy time together at the Edgar Community Center or the Edgar Community Center (with vegan and vegetarian options aplenty). 
The campus also provides numerous options throughout the year for students to explore various topics and engage one another in dialogue, discussion, and debate. There are also several opportunities for both corporate and individual worship, prayer, and reflection, from weekly chapel services to numerous small groups based on denominational or shared spiritual interests.
Finally, numerous student organizations allow students to come together based on shared interests and backgrounds, including the Arts Council, Claremont Sports Association, Korean Student Association, Interreligious Committee, Pan African Seminarians Association, Sexuality and Gender Collaborative, and Student Council.

Housing
---
Claremont offers several housing options for its on-site students, contributing to the school's desire for its students to embrace a diverse community during their years in preparation for ministry. Priority is given to international students, then first-year students, and then all remaining CST students. While CST apartments are unfurnished, free WiFi is provided to all residents. Cable TV is not an option due to the lack of coaxial wiring; however, CST does allow students to use satellite TV if they wish. All utilities are included in the standard rent.
Financial Aid
---
Claremont provides several generous financial aid options for its students. Merit-based aid includes the Trustees Award Scholarship, Presidential Scholarship, Deans Award Scholarship, and Claremont Scholarship. CST also offers scholarships for incoming Methodist students. In addition to merit-based scholarships, CST offers need-based aid through the Claremont Grant. Federal Work Study and Direct Study Loans are also available to qualified students.
Location
---
Review Claremont School of Theology
---
Share Your Seminary Experiences!
Did you attend or are you attending this school? Please help future students by sharing your experiences, pro and con. Thanks!
---
Seminary Advisor

›

Seminary Schools

› Claremont School of Theology