Recommended Reading Recommendation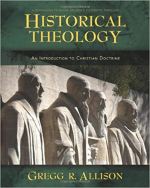 From Amazon.com: "Most historical theology texts follow Christian beliefs chronologically, discussing notable doctrinal developments for all areas of theology according to their historical appearance. And while this may be good history, it can make for confusing theology, with the classic theological loci scattered throughout various time periods, movements, and controversies. In Historical Theology, Gregg Allison offers students the opportunity to study the historical development of theology according to a topical-chronological arrangement, setting out the history of Christian doctrine one theological element at a time."
If you purchase from one of our Amazon.com links, we receive a small commission that helps support this site and does not cost you any extra.
Lexington Theological Seminary



Lexington Theological Seminary Quick Facts

Denominational Affiliation
Christian Church (Disciples of Christ)

Founded
1965

Theological Orientation
Moderate

Degrees Offered
MDiv; MTS; MPS; DMin

Number of Students
c. 87

Tuition Costs for 2018 - 2019
$480/hr

Location
Lexington, KY

School URL
lextheo.edu

Introduction to Lexington Theological seminary

---
Lexington Seminary has a rich and storied history. Originally part of Kentucky University, the school moved to Lexington as part of its merger with Transylvania University (which retained the Kentucky University name until 1908). In time, the seminary would gain its own charter and change its name from The College of the Bible (one of the colleges under the purview of Kentucky University) to Lexington Theological Seminary in 1965.

Though the seminary has undergone significant changes in recent years, its commitment to the church and its leaders is unwavering. The seminary has long held an ecumenical focus with nearly 50% of its student body coming from traditions other than the Disciples of Christ or United Church of Christ. The seminary's online education models allows students from a wide variety of backgrounds to receive a seminary education where it might not otherwise be feasible. The seminary's practical focus is on the student's local congregation so the theory and practice of ministry are intertwined.

Academic Life

---
Due to financial woes sustained during the economic decline of 2008, the seminary moved to offering their courses solely through primarily online instruction as a cost-cutting measure, though there are intensive on-site sessions offered as part of the programs. Currently, the seminary offers the MDiv, MTS, MPS, and DMin programs.

Student Life

---
Since 2011, LTS has moved toward a primarily online-only education model. As such, there is no dedicated campus space for student events or campus-oriented student groups, though students will meet for a few intensive courses during their enrollment. That being said, LTS takes great care to ensure that students are grouped into online communities that provide support for one another. Students also work in and with their local church throughout their program to ensure that their seminary studies have a practical focus.

Housing
---
Since Lexington Seminary has moved to a "virtual" campus with most of its offerings online, there is no housing offered.

Financial Aid

---
LTS offers a small number of full-tuition scholarships to select students and several 50% scholarship awards to Disciples of Christ or United Church of Christ students who are under care in their local region. Students are also eligible for Federal Direct Unsubsidized Student Loans.

Location
---
Review Lexington Seminary
---
Share Your Seminary Experiences!
Did you attend or are you attending this school? Please help future students by sharing your experiences, pro and con. Thanks!
---
Seminary Advisor

›

Seminary Schools

› Lexington Theological Seminary