Recommended Reading Recommendation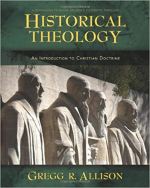 From Amazon.com: "Most historical theology texts follow Christian beliefs chronologically, discussing notable doctrinal developments for all areas of theology according to their historical appearance. And while this may be good history, it can make for confusing theology, with the classic theological loci scattered throughout various time periods, movements, and controversies. In Historical Theology, Gregg Allison offers students the opportunity to study the historical development of theology according to a topical-chronological arrangement, setting out the history of Christian doctrine one theological element at a time."
If you purchase from one of our Amazon.com links, we receive a small commission that helps support this site and does not cost you any extra.
Liberty University School of Divinity



Liberty University School of Divinity Quick Facts
Denominational Affiliation
Baptist

Founded
1973

Theological Orientation
Conservative

Degrees Offered
MDiv; MRE; ThM; MA; MAR; MATS; DMin; PhD

Number of Students
8,000 (traditional and online)

Tuition Costs for 2018 - 2019
$2,850/semester

Location
Lynchburg, VA

School URL
http://www.liberty.edu/divinity/
Introduction to Liberty University School of Divinity

---
The history of the Liberty University School of Divinity is closely tied to the history of Liberty University itself. The late reverend Jerry Falwell founded Liberty originally as "Lynchburg Baptist College" in 1971, with the seminary to follow in 1973. From its humble beginnings, Liberty Divinity is now home to over 8,000 students (counting both onsite and online enrollments). Liberty currently has 22 full-time faculty, all of whom are committed to upholding Liberty's conservative doctrinal statements. Liberty also has arguably the largest online enrollment of any seminary in the world, with many degrees (including the MDiv and several MA concentrations) available completely online.

Academic Life
---
Liberty is known for its commitment to evangelical theology and ministry, and their academic life reflects this passion. All of Liberty's professors affirm the school's adherence to biblical inherency in both their teaching and scholarship.

Liberty's degree programs reflect the school's commitment to practical ministry as well as to evangelical scholarship. They offer numerous master's level programs (MA; MATS; MAR; MARE; MDiv), most of which allow the student to concentrate in an area of interest. Such concentrations include Biblical Studies, Church History, Evangelism and Church Planting, Homiletics, Theology, and many others. For students who already have an MDiv degree, Liberty offers the ThM in several concentrations as well.

In addition to their numerous masters-level programs, Liberty offers two doctoral programs - the professional DMin degree for ministers and the academic PhD in Theology and Apologetics (offered solely online).

Student Life
---
Liberty Divinity students are fortunate enough to have access to not only divinity school facilities but also to the entire university array of activities, since they are considered university students as well. There is a full recreation center for fitness buffs as well as intramural sports. Liberty is also home to the Snowflex Centre, a year-round skiing and snowboarding facility. From mountain biking to paintball, Liberty offers a wide range of activities for all its students, seminarians alike.

Housing
---
Liberty offers limited housing for graduate students who are unmarried and under the age of 25. Other students must live off campus; however, the Liberty University Student Housing office gladly assists students in locating suitable and affordable off-campus housing.

Financial Aid
---
In addition to offering a generous payment plan, Liberty participates in Federal programs such as the Federal Direct Loans and Federal Work Study. Divinity School tuition is also far more affordable than other programs at Liberty. The Financial Aid office also assists students in finding outside scholarships.

Location
---
Review Liberty Baptist Theological Seminary
---
Share Your Seminary Experiences!
Did you attend or are you attending this school? Please help future students by sharing your experiences, pro and con. Thanks!
---
Seminary Advisor

›

Seminary Schools

› Liberty Baptist Theological Seminary