Recommended Reading Recommendation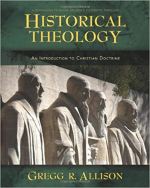 From Amazon.com: "Most historical theology texts follow Christian beliefs chronologically, discussing notable doctrinal developments for all areas of theology according to their historical appearance. And while this may be good history, it can make for confusing theology, with the classic theological loci scattered throughout various time periods, movements, and controversies. In Historical Theology, Gregg Allison offers students the opportunity to study the historical development of theology according to a topical-chronological arrangement, setting out the history of Christian doctrine one theological element at a time."
If you purchase from one of our Amazon.com links, we receive a small commission that helps support this site and does not cost you any extra.
Lubbock Christian University


Lubbock Christian University Quick Facts
Denominational Affiliation
Churches of Christ
Founded
1954
Theological Orientation
Conservative
Degrees Offered
MDiv; MA (Biblical Interpretation); MA (Christian Ministry); MS (Family Ministry)
Number of Students
c. 19
Tuition Costs for 2018 - 2019
$338/hr
Location
Lubbock, TX
School URL
lcu.edu
Introduction to Lubbock Christian University
---
Founded in 1957, LCU is associated with the Church of Christ and prepares students for lives of service as well as scholarship. The university has offered graduate programs in Bible since the late 1980s and currently offers its graduate programs in a predominantly online format so that students who are currently serving in ministry can continue to do so. 
Academic Life
---
In addition to the foundational MDiv degree, students may pursue MA degrees with emphases in Biblical Interpretation or Christian Ministry. An MS in Family Ministry is also available. Most courses are taken online, with the remainder of the courses being offered in intensive one week or two and a half day sessions.
Student Life
---
Since the majority of LCU's graduate Bible classes are taught online, most graduate students won't be concerned about participating in LCU activities; however, for students who do choose to live locally, there are no shortage of on-campus recreational or service opportunities. Indeed, LCU students have a well-earned reputation for their service to the local community and graduate students are welcome to participate in any LCU-sponsored activities. 
In addition to service opportunities, graduate students may also attend and participate in chapel services Monday through Thursday. Students are also welcome to join the Rhodes Perrin Recreation Center for a small monthly fee.
Finally, students can benefit greatly by living in Lubbock itself. With a population of around 240,000, Lubbock provides a number of opportunities to its residents while still maintaining a small city feel. There are numerous city parks as well as many options for outdoor recreation.
Housing
---
LCU offers several on-campus options for which graduate students are eligible, including private dormitory-style accommodations as well as one, two, and four bedroom apartments (shared with fellow students). The apartments are unfurnished though all utilities (cable, Internet, local phone, and electricity) are included.
Financial Aid
---
There are limited scholarships available to students who meet selected criteria. Students are encouraged to contact the LCU Bible department to discuss scholarship and discount options. Furthermore, LCU participates in Federal Student Loan programs. This - combined with already low graduate tuition rates - helps ensure that no deserving student will be prohibited from attending LCU for graduate study in Bible.
Location
---
Review Lubbock Christian University
---
Share Your Seminary Experiences!
Did you attend or are you attending this school? Please help future students by sharing your experiences, pro and con. Thanks!
---
Seminary Advisor

›

Seminary Schools

› Lubbock Christian University