Recommended Reading Recommendation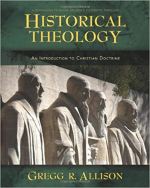 From Amazon.com: "Most historical theology texts follow Christian beliefs chronologically, discussing notable doctrinal developments for all areas of theology according to their historical appearance. And while this may be good history, it can make for confusing theology, with the classic theological loci scattered throughout various time periods, movements, and controversies. In Historical Theology, Gregg Allison offers students the opportunity to study the historical development of theology according to a topical-chronological arrangement, setting out the history of Christian doctrine one theological element at a time."
If you purchase from one of our Amazon.com links, we receive a small commission that helps support this site and does not cost you any extra.
Reformed Theological Seminary



Reformed Theological Seminary Quick Facts
Denominational Affiliation
Non-Denominational

Founded
1966

Theological Orientation
Reformed; Evangelical

Degrees Offered
MA (in many subjects); MDiv; DMin

Number of Students
c. 511

Tuition Costs for 2017 - 2018
$515/hr

Location
Jackson, MS (main campus)

School URL
rts.edu
Introduction to Reformed Theological Seminary

---
The main campus of RTS in Jackson, MS opened in 1966 with a dual commitment to Reformed theology and to the Bible as the inerrant word of God. Since no such seminary existed in the Southeastern US, conservative representatives from the Presbyterian Church in the US - fearing the theological trends of both liberalism and neo-orthodoxy -  decided to fill that need. Thus, Reformed Theological Seminary was born. Since its initial humble beginnings, RTS has evolved considerably, with extension campuses in many states and online offerings in addition to the main Jackson campus.

Academic Life
---
Reformed Theological Seminary is aptly named. The tenets of Reformed Theology and the Westminster Confession define the school's approach to both classroom and ministry as well as the on-campus ethos of worship and prayer.

One of the most defining aspects of the academic life of Reformed Seminary is the numerous campuses available, including significant online offerings (in fact, an MAR degree can be completed completely online). RTS's main campus is in Jackson, MS with extension campuses available in Orland, FL; Charlotte, NC; Atlanta, GA; Washington DC; Houston, TX; and Memphis, TN.

Students at RTS can earn the following degrees: MDiv (with emphases in Biblical Exegesis, Counseling, or Missions); Master of Arts in Marriage & Family Therapy and Counseling; MA; DMin. In addition to courses in theology, biblical studies, church history, and practical theology, RTS offers courses in apologetics and covenant theology.

Student Life
---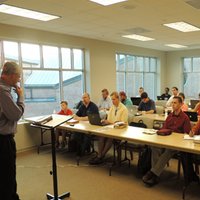 For all the differences geographically between the different campuses, one shared commitment that all RTS campuses emphasize is a lived community of believers, students and faculty alike living, praying, and playing together. The Jackson campus offers the most on-campus facilities, offering numerous intramural sports (volleyball being the most popular) as well as tennis, weight training, golf (at a nearby course), and soccer. Of course, students at the Orlando campus have quite a few things to do in their off time as well, with numerous theme parks and other attractions close by.

Numerous student groups are available at RTS campuses, including groups devoted to women in ministry, African-American ministry, and missions. Chapel services provide opportunities for shared spiritual communion.

Housing
---
The housing offered by Reformed Seminary depends upon the campus. The home campus in Jackson offers generous housing for all students, single or married with numerous townhomes and apartments available both on and off campus. The Orlando campus, the largest extension campus for RTS, offers several condos available at below-market prices. For students who are interested in purchasing a home, the seminary offers assistance to potential buyers. For other extension campuses, students will need to find off-campus housing.

Financial Aid

---
Reformed Seminary offers generous financial aid to its students. Even before grants and scholarships are applied, the seminary purposely keeps tuition costs low through generous donations from seminary supporters. To pay costs not covered by the student and his or her family, the seminary offers several need-based grants as well as specific grants and scholarships for a variety of students who meet specific criteria (e.g. having worked for Campus Crusade for Christ).

One of the most popular forms of financial aid for RTS is their partnership agreements, where if a student's home church will cover 1/3 of the student's tuition the seminary will cover the remaining 1/3. Since RTS strongly discourages students from taking on additional debt, they will work carefully with each student to ensure graduating from seminary with little to no debt as much as possible.

Location
---
Review Reformed Theological Seminary
---
Share Your Seminary Experiences!
Did you attend or are you attending this school? Please help future students by sharing your experiences, pro and con. Thanks!
---
Seminary Advisor

›

Seminary Schools

› Reformed Theological Seminary