Recommended Reading Recommendation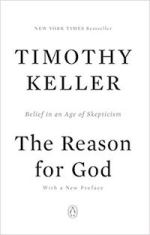 From Amazon.com: "Timothy Keller, the founding pastor of Redeemer Presbyterian Church in New York City, addresses the frequent doubts that skeptics, and even ardent believers, have about religion. Using literature, philosophy, real-life conversations, and potent reasoning, Keller explains how the belief in a Christian God is, in fact, a sound and rational one. To true believers he offers a solid platform on which to stand their ground against the backlash to religion created by the Age of Skepticism. And to skeptics, atheists, and agnostics, he provides a challenging argument for pursuing the reason for God." 
If you purchase from one of our Amazon.com links, we receive a small commission that helps support this site and does not cost you any extra.
Eden Theological Seminary - Life changing!
by Karen Yang
(St. Louis)
I attended Eden for a dual-degree social work and divinity program, receiving a Master of Social Work at a partnering institution.


At the height of the Ferguson uprising, I studied at Eden under professors who helped me make sense of the racial dynamics in US America and to be formed as a theologian in the crucible of activism. Liberation, queer, postcolonial, feminist, and womanist theologies helped me to make meaning of all that I was experience, while professors ushered me into race-critical thinking.
They exposed my growing edges and the ways that I still have unresolved questions-- I still have much work to do around learning about care for those who are differently-abled and about how I understand Christology and soteriology.
And surprise, surprise! Despite my reluctance to work in the church, now I work as a Minister of Family Programming for a Metropolitan Community Church. I cannot say enough good things about this institution!
They could stand to improve the following:
-access for those with different abilities (especially physical)
-greater financial assistance, especially to address food insecurity, access to mental health care, and health insurance
-more focus on spiritual disciplines and personal devotion
-a more global perspective, including hyphenated identities (e.g. Asian American)
Their strengths include:
-progressive, systemic and structural thinking, advocacy, and activism
-a close-knit community where you can get to know other colleagues, staff, professors on a personal level
-constructive, contextual theology
-ecumenical collaboration for liturgy design