Recommended Reading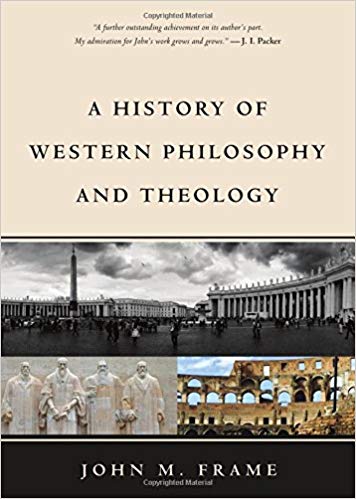 From Amazon.com: "Christians should evaluate philosophy by biblical criteria. This will shed greater light on the developments in the history of philosophy and better prepare us for the intellectual challenges of our time. The fall of Adam brought intellectual as well as moral corruption on the human race, and the effects of the fall can be seen in the work of philosophers, most of whom try to understand the world autonomously through reasoning apart from God's revelation. Some philosophers have appealed to God's revelation, but their work has often been compromised with the wisdom of the world. Revelation should inform reason, and not the other way round. In the past, even Christian theology was corrupted by the movement toward intellectual autonomy, creating the tradition of liberalism, which has unhappily dominated academic theology down to the present day. But there is hope a new generation of Christian thinkers take God's Word seriously. Frame's unique new contribution augments that process."
If you purchase from one of our Amazon.com links, we receive a small commission that helps support this site and does not cost you any extra.
Eden Theological Seminary



Eden Theological Seminary Quick Facts
Denominational Affiliation
United Church of Christ

Founded
1850

Theological Orientation
Moderate

Degrees Offered
MDiv; MTS; MA (Pastoral Studies); DMin

Number of Students
c. 148

Tuition Costs for 2018 - 2019
$18,225/yr

Location
St. Louis, MO

School URL
eden.edu
Introduction to Eden Theological Seminary

---
Though a relatively small institution, Eden Theological Seminary has a significant heritage and counts such important figures as theologians Reinhold Niebuhr and H. Richard Niebuhr and Old Testament scholar Walter Brueggemann among its alumni. Founded in 1850, Eden has been associated with an ecumenical approach to theological education since its founding, a reputation it continues today. Although officially associated with the United Church of Christ, Eden has a broad denominational representation amongst its faculty and student body. The seminary always tries to balance its commitment to the life and body of the church with critical scholarship.

Academic Life

---
Eden currently offers the MDiv, MTS, MAPS (Master of Arts in Pastoral Studies), and DMin degrees. For students who are interested in dual degrees, both an MDiv/MAPS and MDiv/MSW (in conjunction with Washington University) are available.

There are also components of an Eden Seminary education that help set it apart from other institutions. For students who are interested in Global Ministry, Eden affords students to incorporate travel opportunities into the brief January semester. Options include Central America, Ghama, India, and the Middle East. Also, all students in the MDiv program are required to participate each semester (as well as a summer or internship year) in Contextual Education, working 10 hours per week for 14 weeks in a variety of settings, including churches and hospitals.

Student Life

---
Though one will not find a slew of on-campus luxuries at Eden, the campus itself is beautiful and provides many places for students to fellowship, converse, or relax. The S.D. Press Education Center is worth mentioning, as it contains the chapel (held every Monday, Wednesday, and Thursday at 10 am), classrooms, the Boeke Center (student gathering area), and Luhr Reading Room. An affordable community lunch is served in the Schroer Commons every Monday, Tuesday, Wednesday, and Thursday.

Of course, Eden Theological Seminary students are fortunate enough to attend seminary in St. Louis, a city renowned for its high and low culture. For sports fans, there's ample opportunity to cheer on the hometown baseball (Cardinals) and football (Rams) teams. There is also no shortage of museums or opportunities for fine dining and musical entertainment.
Housing
---
Eden offers housing for all students who desire it. There are studio as well as one, two, and three bedroom apartments available at competitive rates. The two and three bedroom apartments are generally reserved for students with children. Housing for commuter students is also available at a reduced rate.

Financial Aid

---
Eden offers numerous financial aid opportunities to help students prepare for the ministry without assuming massive debt. One unique program is the Eden  Explore Scholarship, which pays for 100% of tuition for the first year of seminary no strings attached. Recipients simply must take 9 hours of courses minimum each semester, be member of a Christian congregation, and participate in the seminary's Contextual Education program. For second and third year students, the seminary offers Transformational Leadership Scholarships, as well as Federal Student Loans. The seminary also assists students search for denominational funding.

Location
---
Review Eden Theological Seminary

---
Share Your Seminary Experiences!
Did you attend or are you attending this school? Please help future students by sharing your experiences, pro and con. Thanks!
What Other Visitors Have Said
Click below to see contributions from other visitors to this page...

---
Seminary Advisor Home

›

Seminary Schools

› Eden Theological Seminary