Recommended Reading Recommendation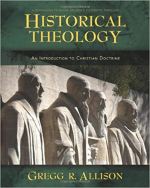 From Amazon.com: "Most historical theology texts follow Christian beliefs chronologically, discussing notable doctrinal developments for all areas of theology according to their historical appearance. And while this may be good history, it can make for confusing theology, with the classic theological loci scattered throughout various time periods, movements, and controversies. In Historical Theology, Gregg Allison offers students the opportunity to study the historical development of theology according to a topical-chronological arrangement, setting out the history of Christian doctrine one theological element at a time."
If you purchase from one of our Amazon.com links, we receive a small commission that helps support this site and does not cost you any extra.
Eden Theological Seminary - Progressive Pastoral Preparation
by Rev. Tony Clark
(Richmond, CA, USA)
I chose Eden because of its reputation for training progressive pastors; I found that Eden was well rounded and that graduates are not just pastors, but secular non-profit, political, and denominational leaders as well as hospice, hospital and military chaplains.


The emphasis on field education, with higher requirements than other seminaries, means that your academic work is fully integrated with the practice of ministry at a variety of settings.
The diversity of denominations represented in the student body and the faculty means your experiences are always being expanded beyond your own, which is key to serving as a faith leader in today's multicultural, global world.
The region has much to explore with world class art museums, a huge outdoor theatre, city parks, universities, a light rail system, and beautiful rivers, woods and national forests within a few hours drive. Centrally located in the St. Louis area, it us also centrally situated between Midwest and the South, offering a progressive theological education to the Central US and the world.