Recommended Reading Recommendation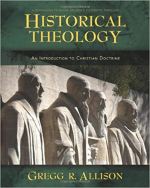 From Amazon.com: "Most historical theology texts follow Christian beliefs chronologically, discussing notable doctrinal developments for all areas of theology according to their historical appearance. And while this may be good history, it can make for confusing theology, with the classic theological loci scattered throughout various time periods, movements, and controversies. In Historical Theology, Gregg Allison offers students the opportunity to study the historical development of theology according to a topical-chronological arrangement, setting out the history of Christian doctrine one theological element at a time."
If you purchase from one of our Amazon.com links, we receive a small commission that helps support this site and does not cost you any extra.
Trinity Theological Seminary

With a 100% acceptance rate, it's hard to see Trinity Theological Seminary as a respectable academic institution. In fact, Trinity holds the distinction of being the only seminary currently listed on this site that is not accredited by any agency, credible or not. Trinity claims that this lack of accreditation is voluntary on their part, but that seems rather hard to believe, given the numerous benefit that recognized accreditation affords an institution. Trinity's self-proclaimed apologetic against the need for accreditation directly contradicts their desire in the past to seek such accreditation.

Faculty Concerns

Trinity further claims that their stellar faculty belies the need for accreditation. While there are certainly some quality faculty members associated with Trinity, there are more faculty who seem to lack proper qualifications, including many faculty members who hold their doctorates from Trinity itself. Several other faculty either lack doctorates, hold a doctorate in a field other than their teaching specialty, or hold the DMin instead of a PhD or ThD.

Get Credit for Teaching Sunday School!

Although their students vociferously protest to the contrary, Trinity has all the hallmarks of a traditional diploma-mill. They lack any sort of accreditation whatsoever and provide credit for a student's "life learning experience" towards one of their degrees. Furthermore, Trinity does not offer any financial aid to its students in any form except for in-house "tuition discounts" they offer to certain students.

Doctor of Doctorology

The rigor of Trinity's programs is certainly questionable. In addition to offering credit for so called "life learning experience," they maintain that students can earn their degrees in less than a year. No reputable academic institution would make such a spurious claim. While one could possibly still "market" oneself with, say, an MDiv or DMin from Trinity, depending upon the type of church one wishes to serve upon graduation, the PhD and "Doctor of Religious Studies" degrees offered by Trinity Seminary are virtually useless, unless you wish to teach at Trinity or another diploma mill.

The Meager MDiv

In addition, one should probably still be wary of an MDiv from Trinity Seminary, and I certainly do not recommend the program to anyone. The Trinity MDiv only requires 63 credits as opposed to the usual 75 - 90 semester credits required by most reputable schools. It is also worth noting that Trinity has zero field requirements for its MDiv students, which should be a red flag to any prospective student.

Final Words About Trinity Theological Seminary

In summary, while you might certainly learn a few things here and there from Trinity's programs, students seeking a quality theological education would be best served by looking elsewhere.

---
Seminary Advisor

›

Unaccredited Seminaries

› Trinity Theological Seminary