Recommended Reading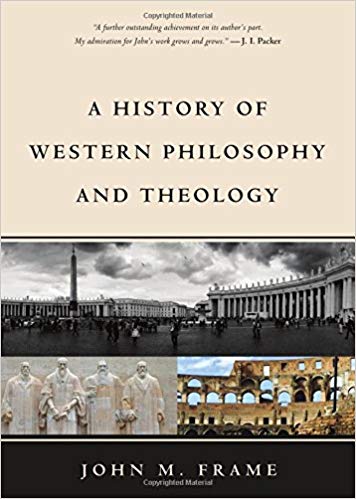 From Amazon.com: "Christians should evaluate philosophy by biblical criteria. This will shed greater light on the developments in the history of philosophy and better prepare us for the intellectual challenges of our time. The fall of Adam brought intellectual as well as moral corruption on the human race, and the effects of the fall can be seen in the work of philosophers, most of whom try to understand the world autonomously through reasoning apart from God's revelation. Some philosophers have appealed to God's revelation, but their work has often been compromised with the wisdom of the world. Revelation should inform reason, and not the other way round. In the past, even Christian theology was corrupted by the movement toward intellectual autonomy, creating the tradition of liberalism, which has unhappily dominated academic theology down to the present day. But there is hope a new generation of Christian thinkers take God's Word seriously. Frame's unique new contribution augments that process."
If you purchase from one of our Amazon.com links, we receive a small commission that helps support this site and does not cost you any extra.
Apex School of Theology

Apex School of Theology, like all of the schools listed in the "schools to avoid" section, is not accredited by either one of the six major regional accrediting agencies or by the Association of Theological Schools. Apex is instead accredited by the Transnational Association of Christian Colleges and Schools (TRACS), a substandard accrediting agency compared to the above.

Red Flags

There are some "red flags" on Apex's website that should be enough to warrant caution from any prospective student. For starters, they are willing to waive the requirement of a high school diploma or GED for students considering their associates and bachelors programs. Instead, they administer their own equivalency test and also consider "life experience" as a qualifying factor, something no legitimate school would ever consider.

There were other red flags found when investigating the school. Like many schools that lack respected accreditation, Apex goes out of its way to point out its own accreditation (with TRACS, of course). 

Faculty Misinformation

There is little information provided on faculty, except that they are poorly compensated and have degrees from "accredited institutions." While currently faculty and their degrees are listed on the staff page, no detailed information is given regarding faculty qualifications, such as specific degrees earned, publications, or other accomplishments.

Come on In!

Even more disconcerting, Apex unapologetically offers an "open door admissions policy," which they claim is intended to help achieve diversity in their student body. In reality, it makes Apex akin to a community college more than it does a graduate school of theology.

Other Concerns

In their financial aid packages, Apex offers more than 90% of its applicants a loan as part of their award. Students who are considering Apex should be cautious about taking out a student loan for a school like Apex, where one's opportunities upon graduation will be limited due to the weak reputation of the school. While Apex says that they offer scholarships based on need, no information about such scholarships are available on the Apex website. Similarly, the website contains several teaser links to items that are "coming soon," with no promised completion time.

Final Words About Apex School of Theology
While I have no doubt that there are well-meaning faculty and staff associated with Apex School of Theology, I would heartily recommend that potential students consider other options before committing to Apex. The cons far outweigh the pros.

---
Seminary Advisor

›

Unaccredited Seminaries

› Apex School of Theology