Recommended Reading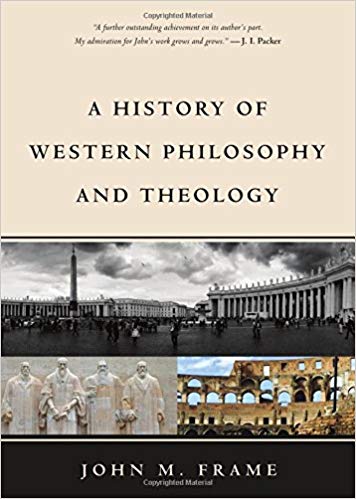 From Amazon.com: "Christians should evaluate philosophy by biblical criteria. This will shed greater light on the developments in the history of philosophy and better prepare us for the intellectual challenges of our time. The fall of Adam brought intellectual as well as moral corruption on the human race, and the effects of the fall can be seen in the work of philosophers, most of whom try to understand the world autonomously through reasoning apart from God's revelation. Some philosophers have appealed to God's revelation, but their work has often been compromised with the wisdom of the world. Revelation should inform reason, and not the other way round. In the past, even Christian theology was corrupted by the movement toward intellectual autonomy, creating the tradition of liberalism, which has unhappily dominated academic theology down to the present day. But there is hope a new generation of Christian thinkers take God's Word seriously. Frame's unique new contribution augments that process."
If you purchase from one of our Amazon.com links, we receive a small commission that helps support this site and does not cost you any extra.
Berkeley Divinity School



Berkeley Divinity School Quick Facts
Denominational Affiliation
Episcopal

Founded
1854

Theological Orientation
Moderate

Degrees Offered
MDiv; MAR; STM

Number of Students
c. 56

Tuition Costs for 2018 - 2019
$24,400/yr

Location
New Haven, CT

School URL
berkeleydivinity.yale.edu
Introduction to Berkeley Divinity School

---
Although currently part of Yale, Berkeley (named after famed British philosopher George Berkeley) was originally an independent institution, founded in 1854 to prepare American students for the Anglican ministry. Still, the relationship between Yale and Berkeley was present since the University's early days, with Berkeley bequeathing much of his estate, including his theological library, to the young university.

Originally located in Middletown, CT, Berkeley was relocated to New Haven in 1928 and became joined with Yale University in 1971. Berkeley students enjoy the best of both worlds - part of a seminary rich with American Anglican history and part of a world-class university.
Academic Life

---
As part of Yale University, Berkeley students are concurrently enrolled in both schools. Students at Berkeley may work towards any of the degrees offered by Yale Divinity School (MDiv, MAR, STM). In addition, Episcopal students may earn a diploma in Anglican Studies (through the MDiv program) or a certificate in Anglican Studies (through either the MAR or STM programs).

Student Life

---
Students at Berkeley Divinity School enjoy a host of on-campus opportunities. In the school itself, part of the broader Yale Divinity School community, there are numerous opportunities for corporate worship. Daily ecumenical worship services are held in Marquand Chapel starting at 10:30 am. St. Luke's chapel in the Berkeley Center hosts morning and evening prayers as well as celebration of the Eucharist many times during the week.

In addition to corporate worship, Berkeley students may participate in the many student organizations at Yale Divinity School. Student groups based on various interests and backgrounds include such diverse groups devoted to shared theological background such as  Baptist Student Fellowship, Catholic Fellowship, Evangelical Fellowship, and Methodist Society, as well as groups devoted to shared interests such as the Bible Belters (singing group), the Coalition (LGBT issues), and the Sacramental Winers (singing group).

As students of Yale University, Berkeley Seminary students enjoy access to a wide range of resources. From a 24-hour student infirmary to a world-class gym, there's definitely no shortage of things to do. From on-campus art and history museums to intramural sports, there's a wealth of activities. And while students may find no shortage of activities in New Haven itself, it's worth noting that NYC is less than two hours away, affording even more possibilities.
Housing
---
Berkeley students qualify for the same apartments and other housing options as Yale Divinity and Yale Graduate School students. The options are generous. YDS offers numerous one bedroom, two bedroom, and shared bedroom options. In addition to housing units specifically for divinity students, Yale University's graduate housing offerings are numerous, including many dormitory and apartment options are reasonable prices.

Financial Aid

---
Since Berkeley operates as part of Yale University, and specifically Yale Divinity School, Berkeley students are eligible for the same aid that YDS students receive. Yale awards both need-based and merit-based awards. According to Yale Divinity School records, over 90% of students receive financial aid towards expenses. In addition to need-based aid, Berkeley students are eligible for a handful of merit-based scholarships (MDiv and MAR only).

Location
---
Review Berkeley Divinity School

---
Share Your Seminary Experiences!
Did you attend or are you attending this school? Please help future students by sharing your experiences, pro and con. Thanks!
---
Seminary Advisor

›

Seminary Schools

› Berkeley Divinity School