Recommended Reading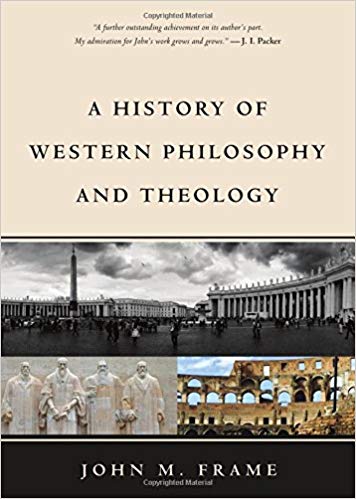 From Amazon.com: "Christians should evaluate philosophy by biblical criteria. This will shed greater light on the developments in the history of philosophy and better prepare us for the intellectual challenges of our time. The fall of Adam brought intellectual as well as moral corruption on the human race, and the effects of the fall can be seen in the work of philosophers, most of whom try to understand the world autonomously through reasoning apart from God's revelation. Some philosophers have appealed to God's revelation, but their work has often been compromised with the wisdom of the world. Revelation should inform reason, and not the other way round. In the past, even Christian theology was corrupted by the movement toward intellectual autonomy, creating the tradition of liberalism, which has unhappily dominated academic theology down to the present day. But there is hope a new generation of Christian thinkers take God's Word seriously. Frame's unique new contribution augments that process."
If you purchase from one of our Amazon.com links, we receive a small commission that helps support this site and does not cost you any extra.
Denver Seminary



Denver Seminary Quick Facts
Denominational Affiliation
Non-Denominational

Founded
1950

Theological Orientation
Conservative

Degrees Offered
MDiv; MA; DMin

Number of Students
c. 900

Tuition Costs for 2018 - 2019
$605/hr (MDiv); $615/hr (DMin)

Location
Denver, CO

School URL
denverseminary.edu
Introduction to Denver Seminary

---
The history of Denver Seminary is intertwined with the founding of the Conservative Baptist Association in the early 1940s. The seminary itself began in the early 1950s with a mere thirty-one students. Eventually, the school was granted full ATS and North Central Association accreditation. In time, the student body far outgrew the original facilities, prompting a move to its current campus in Littleton, CO, with a student body hovering around 1,000 students. The school is known for its innovative ministry programs and training and mentoring program, as well as its beautiful campus.

Academic Life

---
The seminary offers the Master of Divinity (MDiv) degree (with optional concentrations in apologetics and ethics, biblical preaching, biblical studies, chaplaincy, Christian formation and soul care, intercultural ministry, justice and mission, leadership, Messianic Judaism, New Testament, Old Testament, outdoor leadership, pastoral care and counseling,  theology, or youth and family ministries)

Several Master of Arts degrees are available, with concentrations in Apologetics and Ethics; Christian Studies; New Testament; Old Testament; Theology. Additionally, the Seminary offers a Masters of Arts degree in Chaplaincy; Christian Formation and Soul Care; Clinical Mental Health Counseling; Counseling Ministries; Justice and Mission; Leadership; Youth and Family Ministries.

The seminary also offers numerous certificate programs with concentrations in Biblical and Theological Studies; Chaplaincy; Christian Apologetics; Christian Formation; Christian Soul Care; Hispanic Studies; Justice and Mission; Messianic Judaism; Pastoral Care; School Counseling.

Finally, Denver Seminary also offers the Doctor of Ministry (DMin) degree with concentrations in leadership, marriage and family ministry, pastoral skills, and spiritual formation

The seminary is well known for its training and mentoring program, where a student is paired with mentors who help the students develop both their personal character as well as professional skills.

Student Life

---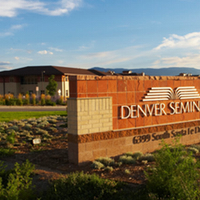 Although a relatively small campus, Denver Seminary has much to offer its students. Nearly every window on campus offers a breathtaking view of the Colorado mountains, no small perk to being a student here! The on-campus Student Center offers many opportunities to relax, and there are numerous spaces on campus where it's easy to immerse yourself in your studies when needed.  There are also numerous opportunities to focus on your spiritual life, with weekly chapel services offered in Common Ground, the seminary's chapel. There are also numerous student groups formed on shared interests, from rock climbing to Habitat for Humanity.

Of course, living near the Denver metroplex affords some incredible cultural opportunities. No matter whether you want to cheer the Denver Broncos on to victory, head to the slopes for the weekend, or take the family to the Denver Museum of Nature & Science, there is no shortage of indoor or outdoor activities in the area. While the seminary does not provide any formal exercise facilities, you are literally surrounded by some of the best exercise opportunities available in the wonderful outdoor life the area has to offer.
Housing
---
The seminary offers numerous options for on-campus housing, including one, two, and three bedroom options for both single and married students. The apartments are equipped with numerous appliances, and the community offers play areas for children. The monthly rates are highly competitive and include water, trash removal, Internet access, and membership to the Arapahoe Community College Fitness Center. Students are responsible for their own energy, TV, and telephone bills. Many students elect off-campus options, so the seminary provides assistance both those looking for a home and those with home to offer.

Financial Aid

---
Fortunately for its students, the seminary offers generous financial aid based on both need and merit. Qualifying students are able to receive Kerns Family Foundation Scholarships, covering up to 100% of tuition. Denver also offers institutional grants and tuition discounts as well as various scholarships, far too many to list here. Some scholarships are based on pure academic merit while others are based on specific non-academic criteria (e.g. the Campus Crusade for Christ discount).

In addition to scholarships and grants, the seminary participates in Federal Financial Aid programs such as Work Study and the Federal Direct Unsubsidized Loan and the Federal Direct PLUS Loan. The financial aid office also assists students searching for outside scholarships.

Location
---
Review Denver Seminary

---
Share Your Seminary Experiences!
Did you attend or are you attending this school? Please help future students by sharing your experiences, pro and con. Thanks!
---
Seminary Advisor

›

Seminary Schools

› Denver Seminary