Recommended Reading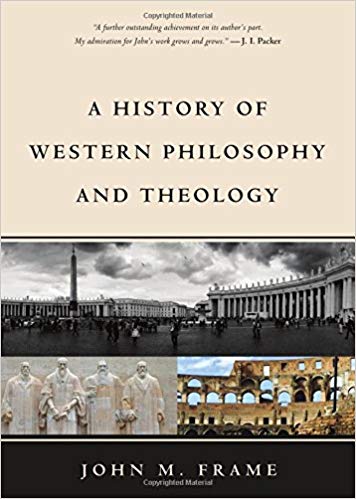 From Amazon.com: "Christians should evaluate philosophy by biblical criteria. This will shed greater light on the developments in the history of philosophy and better prepare us for the intellectual challenges of our time. The fall of Adam brought intellectual as well as moral corruption on the human race, and the effects of the fall can be seen in the work of philosophers, most of whom try to understand the world autonomously through reasoning apart from God's revelation. Some philosophers have appealed to God's revelation, but their work has often been compromised with the wisdom of the world. Revelation should inform reason, and not the other way round. In the past, even Christian theology was corrupted by the movement toward intellectual autonomy, creating the tradition of liberalism, which has unhappily dominated academic theology down to the present day. But there is hope a new generation of Christian thinkers take God's Word seriously. Frame's unique new contribution augments that process."
If you purchase from one of our Amazon.com links, we receive a small commission that helps support this site and does not cost you any extra.
Eastern Mennonite Seminary



Eastern Mennonite Seminary Quick Facts

Denominational Affiliation
Mennonite/Interdenominational

Founded
1965

Theological Orientation
Moderate

Degrees Offered
MDiv; MA (Church Leadership; Religion); MDiv/MA (Counseling; MBA; Conflict Transformation).

Number of Students
c. 140

Tuition Costs for 2018 - 2019
$500/hr
Location
Harrisonburg, VA

School URL
emu.edu/seminary
Introduction to Eastern Mennonite Seminary

---
Like many seminaries, EMS began as part of the curriculum of a parent institution, in this case Eastern Mennonite College. The college itself was founded in 1917, and the offerings in biblical studies formed a significant component of both undergraduate and graduate studies over the next few decades. By the mid-1960s, the Bachelor of Divinity was offered (the precursor of the MDiv degree), and the seminary was born. Several master's level degrees as well as Clinical Pastoral Education were added over the years, and today the seminary serves many students from the anabaptist tradition as well as many others.

Academic Life

---
Eastern Mennonite Seminary offers the MDiv, MA (Church Leadership), MA (Religion), and several dual  degrees in conjunction with Eastern Mennonite University, including MDiv/MA (Counseling), MDiv/MBA, MDiv/MA (Conflict Transformation). For the MDiv, the seminary offers four concentrations: pastoral ministry, church and community ministry, academic ministry, and specialized ministry (such as chaplaincy).

Interestingly, EMS also divides its areas of study into five distinct areas: Forming the Ministering Person; Nurturing the Biblical Vision; Understanding the Christian Tradition; Discerning the Contexts of Ministry; Developing the Skills of Ministry. While these areas fall under traditional rubrics such as practical theology, biblical studies, church history, etc, the unique division that EMS offers suggest the holistic approach the school takes to ministry.
Student Life

---
Both the faculty and staff of EMS take building community life together outside of the classroom very seriously. Group worship is held every Tuesday and Thursday, with the community gathering for lunch afterwards. The seminary hosts Spiritual Life Week each fall, where a guest speaker is invited to campus and the community is encouraged to participate. And of course, what's seminary life like without committees? The fellowship and forum committees provide opportunities for students to meet outside of class for recreation and thoughtful reflection.

EMS students also enjoy the resources of the Eastern Mennonite University community. Seminary students have access to personal counseling if needed as well as an on-campus health center for basic services, providing referrals when needed. A wide range of recreational services are offered by EMU as well. Seminary students can work out at the University Commons Fitness Center, offering weight training, cardiovascular training, as well as an indoor track and group fitness classes.

The University Commons also hosts a game room with pool, ping pong, foosball, and other equipment available for checkout. Outdoor recreational facilities include courts for tennis, volleyball, and basketball as well as an outdoor track. If you're not in the mood for exercise, the EMU is also host to the D. Ralph Hostetter Museum of Natural History and the Eden Arboretum. There's no shortage of on or off campus activities for the EMS student.
H
ousing
---
University-owned housing is available to seminary students on a first-come, first-served basis. The two apartment complexes (Mt. Clinton Apartments and Village Apartments) are convenient to campus and offer standard kitchen appliances, air conditioning, and on-site laundry facilities. The apartments are competitively priced, and furnished apartments are available. The university also hosts an E-Classifieds section on their website where students can view available off-campus housing listings.

Financial Aid

---
EMS provides several options in helping its students pay for seminary. Church Match Grants provide up to $2,000/yr for full-time students and $1,000/yr for part-time students, with the seminary matching the money given from a student's local church. For amounts over $2,000, the seminary will match 1/4 on the dollar. Full-time Mennonite students are also eligible for $750 per semester. In addition to the above, qualifying students may participate in Federal Work Study programs as well as take out Federal Direct Student Loans up to $20,500/yr.

L
ocation
---
Review Eastern Mennonite Seminary
---
Share Your Seminary Experiences!
Did you attend or are you attending this school? Please help future students by sharing your experiences, pro and con. Thanks!
---
Seminary Advisor

›

Seminary Schools

› Eastern Mennonite Seminary