Recommended Reading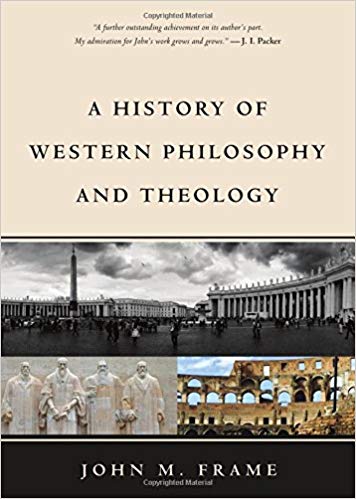 From Amazon.com: "Christians should evaluate philosophy by biblical criteria. This will shed greater light on the developments in the history of philosophy and better prepare us for the intellectual challenges of our time. The fall of Adam brought intellectual as well as moral corruption on the human race, and the effects of the fall can be seen in the work of philosophers, most of whom try to understand the world autonomously through reasoning apart from God's revelation. Some philosophers have appealed to God's revelation, but their work has often been compromised with the wisdom of the world. Revelation should inform reason, and not the other way round. In the past, even Christian theology was corrupted by the movement toward intellectual autonomy, creating the tradition of liberalism, which has unhappily dominated academic theology down to the present day. But there is hope a new generation of Christian thinkers take God's Word seriously. Frame's unique new contribution augments that process."
If you purchase from one of our Amazon.com links, we receive a small commission that helps support this site and does not cost you any extra.
McAfee School of Theology



McAfee School of Theology Quick Facts
Denominational Affiliation
Cooperative Baptist Fellowship

Founded
1994

Theological Orientation
Moderate

Degrees Offered
MDiv; MA; DMin

Number of Students
c. 200

Tuition Costs for 2018 - 2019
$455/hr

Location
Atlanta, GA

School URL
theology.mercer.edu
Introduction to McAfee School of Theology

---
As a dedicated school under the auspices of Mercer University, the McAfee School of Theology reflects t he history of the university itself, where theology was one of main emphases. Preparation for Baptist ministry was one of the school's main concerns. As the school evolved over time into a university with several courses of study, the study of theology and practical preparation for ministry were not forgotten, leading to the founding of the McAfee School in 1994.

Academic Life

---
McAfee offers three degrees as well as three dual degrees. Students may pursue the MDiv with one of seven concentrations (Academic Research, Business Administration, Christian Social Ethics, Congregational Ministry, Global Christianity, Pastoral Care, and Urban Missions), the MA in Christian Ministry, and the DMin with one of eight concentrations (Christian Spirituality, Justice and Peacemaking, Leadership and Ministry, Mission and Community Transformation, Pastoral Care/Chaplaincy, Preaching, Scripture and the Life of the Church, and Theology/Christian Worship).

Three dual degrees are also available: the MDiv/MBA, MDiv/MS (Clinical Mental Health Counseling), and MDiv/MS (Organizational Leadership with a Concentration in Nonprofit).

Student Life

---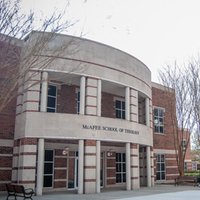 As Mercer University students, all McAfee students enjoy access to the same facilities and services that all Mercer students have, from the student health and counseling center to the on-campus fitness facilities. The McAfee community also gathers once a week for chapel, often led by a guest speaker.  There are various student organizations as well, including the International Justice Mission, the Student Advocacy and Leadership Team, and the Multicultural Student Association.

McAfee students also enjoy the benefits of living in a major metropolitan area. The capital of Georgia, Atlanta offers a thriving culture with world-class museums, dining, and family outings, including well over 300 parks. Sports fans can enjoy one of three major professional sports with Atlanta being home to the Falcons (football), Hawks (basketball), and Braves (baseball). There is no shortage of live music, with everything from southern rock to hip-hop finding an audience.

Housing

---
McAfee students are eligible to live in campus housing, which consists of one, two, three, and four bedroom apartments, with private bedrooms for each student as well as Internet, basic cable, electricity, and water provided for each apartment. For students who wish to live off campus, a wide array of apartments and homes are available.

Financial Aid

---
McAfee offers generous need-based financial aid in the form of a Mercer Theology Study Grant to students who show demonstrated financial need. In addition to need-based aid, the seminary offers merit-based scholarships to students who have earned at least a 3.25 undergraduate gpa, with awards ranging from full tuition plus stipend to various levels of tuition coverage. McAfee/Mercer also participates in Federal Student Loan programs so eligible students may borrow funds to help offset the cost of their theological education.

Location
---
Review McAfee School of Theology

---
Share Your Seminary Experiences!
Did you attend or are you attending this school? Please help future students by sharing your experiences, pro and con. Thanks!
---
Seminary Advisor

›

Seminary Schools

› McAfee School of Theology