Recommended Reading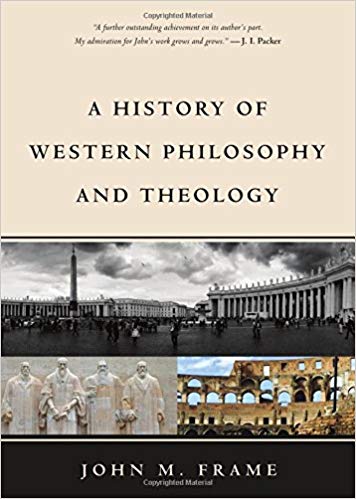 From Amazon.com: "Christians should evaluate philosophy by biblical criteria. This will shed greater light on the developments in the history of philosophy and better prepare us for the intellectual challenges of our time. The fall of Adam brought intellectual as well as moral corruption on the human race, and the effects of the fall can be seen in the work of philosophers, most of whom try to understand the world autonomously through reasoning apart from God's revelation. Some philosophers have appealed to God's revelation, but their work has often been compromised with the wisdom of the world. Revelation should inform reason, and not the other way round. In the past, even Christian theology was corrupted by the movement toward intellectual autonomy, creating the tradition of liberalism, which has unhappily dominated academic theology down to the present day. But there is hope a new generation of Christian thinkers take God's Word seriously. Frame's unique new contribution augments that process."
If you purchase from one of our Amazon.com links, we receive a small commission that helps support this site and does not cost you any extra.
New Geneva Theological Seminary

For a student interested in New Geneva Theological Seminary, the first thing to understand is that the administration and faculty of the school seem to be genuinely interested in offering a quality seminary education to its students. Certainly, NGTS is no diploma mill, and there are many students who could certainly benefit from studying there, especially students interested in studying from a Reformed perspective. Nevertheless, there is no shortage of seminaries that also offer students a Reformed theological education. As such, a prospective student should ask whether the many weaknesses of NGTS make pursuing a degree there worthwhile.

Accreditation Issues

The most  pressing issue that should concern prospective students is the school's lack of quality accreditation. New Geneva is accredited by the Association of Reformed Theological Seminaries, which is not a recognized accrediting agency and currently boasts only seven schools in its membership, most of which are not accredited by any other recognized respected agencies (Puritan Reformed Seminary being the only exception). Furthermore, the ARTS Board of Directors and Executive Committee are solely comprised of members associated with the seven schools accredited by ARTS. New Geneva Seminary's voluntary association with such an agency does not reflect well on the school.

Worst. Website. Ever.

Nor does the school's website. Granted, one must be cautious about judging a school by its web presence. Still, the dated look and lack of quality information demonstrates either a lack of concern on the part of NGTS or a lack of appropriate funds to update the aging site, which apparently has not seen an upgrade since 2003. Furthermore, documents on the New Geneva Seminary home page that reference Summer Intensive Courses lead to syllabi for courses that took place years ago. Moreover, the links to recommended sites date back to 2003 and apparently haven't been updated either. If this is the kind of care and attention they show to the public, one wonders how careless they are in other areas.
UPDATE: NGTS has recently updated their website which addresses many of the above issues.
Faculty Concerns

The website does contain a link to the newest catalog, which provides even more cause for concern for potential students. Any seminary is only as strong as its faculty, and the faculty of NGTS is fairly weak overall. There are only a handful of full-time professors, some of whom barely qualify academically to teach at the seminary level. The adjunct professors have a similar lack of quality, with most possessing either a DMin or a PhD of questionable quality or relevance.

Final Words About New Geneva Theological Seminary

Those associated with New Geneva Theological Seminary are certainly passionate about Reformed Theology, and some students could possibly benefit from their program (including those without a bachelor's degree since NGTS appears willing to admit students not academically prepared for seminary); however, given the existence of schools like Westminster Theological Seminary and Reformed Theological Seminary, one has to question whether a school like New Geneva has a place in graduate theological education.

---
Seminary Advisor

›

Unaccredited Seminaries

› New Geneva Theological Seminary