Recommended Reading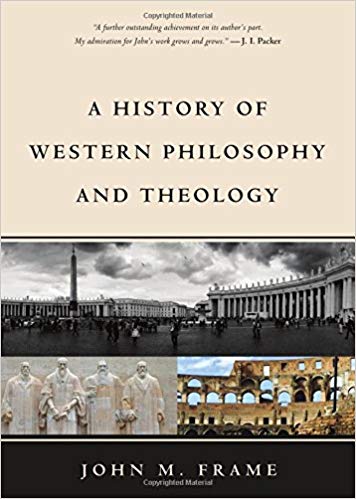 From Amazon.com: "Christians should evaluate philosophy by biblical criteria. This will shed greater light on the developments in the history of philosophy and better prepare us for the intellectual challenges of our time. The fall of Adam brought intellectual as well as moral corruption on the human race, and the effects of the fall can be seen in the work of philosophers, most of whom try to understand the world autonomously through reasoning apart from God's revelation. Some philosophers have appealed to God's revelation, but their work has often been compromised with the wisdom of the world. Revelation should inform reason, and not the other way round. In the past, even Christian theology was corrupted by the movement toward intellectual autonomy, creating the tradition of liberalism, which has unhappily dominated academic theology down to the present day. But there is hope a new generation of Christian thinkers take God's Word seriously. Frame's unique new contribution augments that process."
If you purchase from one of our Amazon.com links, we receive a small commission that helps support this site and does not cost you any extra.
New York Theological Seminary



New York Theological Seminary Quick Facts

Denominational Affiliation
Non-Denominational

Founded
1900

Theological Orientation
Liberal

Degrees Offered
MDiv; MAPCC; MARE; MARLA: MAYM; MPS; DMin

Number of Students
c. 380

Tuition Costs for 2019 - 2020
$665/hr (master's programs); DMin varies by year

Location
New York City, NY

School URL
nyts.edu

Introduction to New York Theological Seminary
---
Known for its commitment to urban ministry and diverse student body, NYTS was founded in 1900 and by 1902 was known as the Biblical Seminary in New York, adopting its current name in 1966. NYTS prides itself on its diverse and inclusive community coupled with its engagement with the biblical witness. NYTS is unique in that the school itself owns no property and has no central location. Classes are held in the historic Riverside church with administrative offices located in the NY-based Interchurch Center. Among its many distinct offerings its is MPS program, offered exclusively to inmates at Sing Sing correctional facility.

Academic Life
---
NYTS offers several master's level degree programs in addition to the Doctor of Ministry (DMin). These programs include the MDiv, MA in Pastoral Care and Counseling (MAPCC), Master of Arts in Religious Education (MARE), Master of Arts in Religious Leadership and Administration (MARLA), Master of Arts in Youth Ministry (MAYM), and Master of Professional Studies (MPS) (offered only in the Sing Sing correctional facility). Certificate programs are also available in Christian Ministry and Islamic Studies.

Student Life
---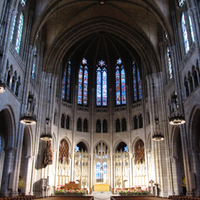 Located in the heart of New York City in the borough of Manhattan, NYTS students have access to some of the world's most coveted attractions in the world of art, music, sports, and cuisine. From the Metropolitan Museum of Art to the New York Yankees (or Mets, depending on your preference), this is certainly the "city that never sleeps."

Of course, given the seminary's location (Riverside Church and the surrounding area) there is no shortage of real-world ministry opportunities. Students live and work in the city, unsheltered from the world itself. Indeed, the NYTS catalog maintains the "city as its primary campus."

As part of its emphasis on practical ministry experience, the seminary sponsors several centers that focus on various areas of ministry. These include the Center for the Study and Practice of Urban Religion (CSPUR), Center for World Christianity, Eleanor Moody-Shepherd Resource Center for Women in Ministry, Center for Pentecostal Leadership at NYTS, and the Micah Institute.

Housing
---
Since NYTS does not own property, there is no dedicated housing for NYTS seminary students, nor does the seminary offer assistance in finding students housing.

Financial Aid
---
NYTS offers financial aid in the form of need-based grants though some merit-based scholarships are available. The seminary also participates in the federal direct student loan program.

Location
---
Review New York Theological Seminary
---
Share Your Seminary Experiences!
Did you attend or are you attending this school? Please help future students by sharing your experiences, pro and con. Thanks!
---
Seminary Advisor

›

Seminary Schools

› New York Theological Seminary