Recommended Reading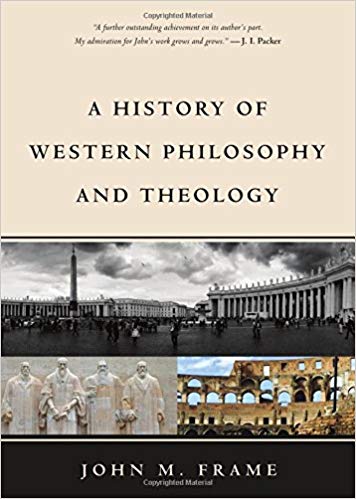 From Amazon.com: "Christians should evaluate philosophy by biblical criteria. This will shed greater light on the developments in the history of philosophy and better prepare us for the intellectual challenges of our time. The fall of Adam brought intellectual as well as moral corruption on the human race, and the effects of the fall can be seen in the work of philosophers, most of whom try to understand the world autonomously through reasoning apart from God's revelation. Some philosophers have appealed to God's revelation, but their work has often been compromised with the wisdom of the world. Revelation should inform reason, and not the other way round. In the past, even Christian theology was corrupted by the movement toward intellectual autonomy, creating the tradition of liberalism, which has unhappily dominated academic theology down to the present day. But there is hope a new generation of Christian thinkers take God's Word seriously. Frame's unique new contribution augments that process."
If you purchase from one of our Amazon.com links, we receive a small commission that helps support this site and does not cost you any extra.
Online Seminary - Some Cautionary Advice

Attending an online seminary is a viable alternative to traditional onsite study if you're a busy working adult who is interested in attending seminary or divinity school. Truth be told, however, you have to be cautious when investigating online seminaries. There are many unaccredited "diploma mills" who will gladly take your money in exchange for one of their "degrees." Unfortunately, the degree will not be worth the paper its printed on, perhaps even doing more harm than good when you try to pass it off as a legitimate credential.

Accreditation

So, the first step in finding an online seminary is to make sure that they are accredited by a recognized agency. Any legitimate seminary or divinity school will be accredited by the ATS (Association of Theological Schools) and/or a US Department of Education recognized accreditation agency (i.e. a regional accreditation agency, such as as the Southern Association of Colleges and Schools). No matter what a school tells you, if they are not recognized by at least one of these accrediting bodies, then run away!

Faculty Matters

You should also consider the quality of the faculty. Do they have terminal degrees in their fields (i.e. PhD or ThD)? Do they have a record of publications? Are there a substantial number of faculty for each field? Is contact information available? Do they look like a televangelist instead of a theologian?

Fully Online?

You also need to see if it's possible to complete a degree 100% online or if you can only complete part of the degree. For example, Calvin Theological Seminary allows you to earn an MTS 100% online, but Gordon Conwell lets you earn only a portion of your degree online. Also, due to the nature of the degrees, it's more common to find an MA or MTS degree available online than it is an MDiv, due to the field requirements of the latter.

Final Recommendations for Online Seminary Degrees

Personally, I would also only consider online programs from schools that offer a traditional onsite program and have a well-earned reputation from that program. That's not to say that online-only schools don't have their place, but the reality is simple - if you want the respect of your peers and, possibly, future professors (i.e. for further graduate work), then an online MTS from, say, Calvin Seminary will be far more appealing than an MDiv from Bubba's School o' Theology. A degree earned online from an established school will also likely be far more rigorous and worthwhile than a degree earned with little work.

---
Seminary Advisor

›

Types of Seminaries

› Online Seminary