Recommended Reading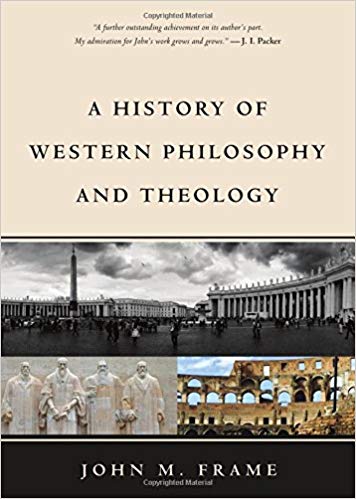 From Amazon.com: "Christians should evaluate philosophy by biblical criteria. This will shed greater light on the developments in the history of philosophy and better prepare us for the intellectual challenges of our time. The fall of Adam brought intellectual as well as moral corruption on the human race, and the effects of the fall can be seen in the work of philosophers, most of whom try to understand the world autonomously through reasoning apart from God's revelation. Some philosophers have appealed to God's revelation, but their work has often been compromised with the wisdom of the world. Revelation should inform reason, and not the other way round. In the past, even Christian theology was corrupted by the movement toward intellectual autonomy, creating the tradition of liberalism, which has unhappily dominated academic theology down to the present day. But there is hope a new generation of Christian thinkers take God's Word seriously. Frame's unique new contribution augments that process."
If you purchase from one of our Amazon.com links, we receive a small commission that helps support this site and does not cost you any extra.
Princeton Theological Seminary



Princeton Theological Seminary Quick Facts
Denominational Affiliation
Presbyterian Church (USA)

Founded
1812

Theological Orientation
Moderate

Degrees Offered
MDiv; MA; ThM; PhD

Number of Students
c. 500

Tuition Costs for 2019 - 2020
$18,000   
 
Location
Princeton, NJ

School URL
ptsem.edu
Introduction to Princeton Theological Seminary

---
One of ten seminaries officially associated with the Presbyterian Church (USA), Princeton Seminary is the second oldest seminary in the United States (after Andover Newton). The first seminary founded by the Presbyterian Church in the USA, Princeton has long been a leader in theological education in not only the United States but the world. One time well-known for "Princeton Theology," a rigorous and vigorous defense of Reformed Orthodoxy, Princeton's faculty and student body currently represent a wide range of theological positions and cultural backgrounds.

Academic Life

---
Princeton offers the MDiv, MA (in Christian Education), MA (Theology), ThM (Biblical Studies, Church History, Theology, Practical Theology, Worship Studies), and PhD. Students may earn a dual MDiv/MA or a dual MDiv/MSW in conjunction with Rutgers University.

In addition to the seminary degree programs, Princeton hosts the Center for Barth Studies and Abraham Kuyper Center for Public Theology. While an independent institution, the seminary also maintains a close relationship with the Center for Theological Inquiry (originally founded by Princeton Seminary trustees). Numerous lecture series are held throughout the year as well.

Student Life

---
Princeton Seminary has much to offer students merely by its physical location. Located just over an hour away from both Philadelphia and New York City, Princeton students are close to some of the world's greatest theaters, museums, and sporting events.

On a personal note, as a graduate of PTS, I can attest to the wide variety of cultural events available to students. I would often get discount tickets for Broadway shows available to students and go often. Two of my favorite museums - the Natural History Museum and Metropolitan Museum of Art - are  within a couple of hours via train and subway from the main campus. It's a wonderful location to be sure!

The main seminary campus offers a wonderful dining area as well as a counseling center and gym for student use. Students are also invited to participate in chapel services at Miller Chapel (e.g. music, reading scripture) and seniors are invited to preach in chapel services should they choose to do so.

Princeton Seminary students also have access to the vast resources of Princeton University, located literally across the street. Students may take University courses for credit as well as use campus recreational facilities as well as Princeton University healthcare facilities.

Housing
---
Princeton has ample housing available to both single and married students. For single students with no dependents, housing is available on the main campus, close to the chapel, academic, and administrating buildings, as well as apartments about three miles from campus. Family housing is available at three nearby seminary-owned apartment complexes.

Financial Aid

---
Due to its large endowment (close to $1B), Princeton Theological Seminary is able to offer generous need-based and merit-based aid to its students (though ThM students are required to pay full cost out of pocket). PCUSA students with demonstrated need receive up to 100% of tuition costs based on needs; non-PCUSA students may receive up to 80% of tuition costs. Other grants are available to students who have demonstrated financial need and already have significant student loan debt.

Several merit awards (the Presbyterian Leadership Award, Seminary Fellowship, and Leadership Award) are given to several incoming MDiv and MA students. Students in the PhD program receive tuition fellowships as well as assistantships to cover costs.

Location
---
Review Princeton Theological Seminary
---
Share Your Seminary Experiences!
Did you attend or are you attending this school? Please help future students by sharing your experiences, pro and con. Thanks!
---
Seminary Advisor

›

Seminary Schools

› Princeton Theological Seminary