Recommended Reading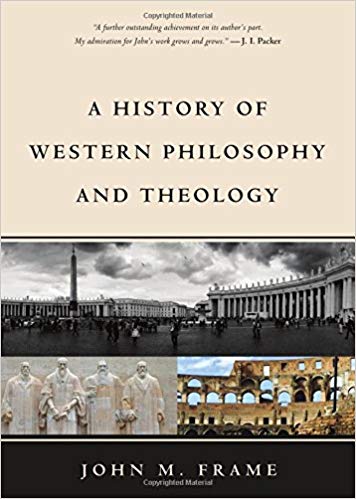 From Amazon.com: "Christians should evaluate philosophy by biblical criteria. This will shed greater light on the developments in the history of philosophy and better prepare us for the intellectual challenges of our time. The fall of Adam brought intellectual as well as moral corruption on the human race, and the effects of the fall can be seen in the work of philosophers, most of whom try to understand the world autonomously through reasoning apart from God's revelation. Some philosophers have appealed to God's revelation, but their work has often been compromised with the wisdom of the world. Revelation should inform reason, and not the other way round. In the past, even Christian theology was corrupted by the movement toward intellectual autonomy, creating the tradition of liberalism, which has unhappily dominated academic theology down to the present day. But there is hope a new generation of Christian thinkers take God's Word seriously. Frame's unique new contribution augments that process."
If you purchase from one of our Amazon.com links, we receive a small commission that helps support this site and does not cost you any extra.
Theology Degree Online - Your Options
If you're looking at earning your theology degree online, it's important to explore all of your options so that you can separate "the wheat from the chaff," so to speak. There are no shortage of undergraduate or seminary degrees online these days. That's the good news. But not all of them are created equal, so let's look at some of the necessary components of a respectable online seminary degree so that you won't waste your valuable time or money.
It's important to know that there are many respectable online theology degrees offered by fully accredited seminaries and divinity schools. It is crucial to attend a school that is accredited by the ATS and/or a recognize regional accrediting agency. Otherwise, your will be limiting your options with respect to possible further graduate studies or if you decide to transfer to another program. There is no shortage of diploma mills, including those focused on seminary-type degrees, so be cautious. With some exceptions, you generally want to avoid for-profit institutions.
There are many options with respect to the types of degrees you can earn as well. If you are interested in a master's-level degree, there are many MA as well as MDiv programs available. Some schools even offer the DMin degree through online delivery. And if you're looking for an undergraduate theology degree online, there are numerous colleges and universities that offer bachelor's-level degrees in theology and religious studies. So depending on your needs, there is likely a degree that suits you. If you're interested in preparing for the ministry, you should check with your local church or governing body to see what their needs and requirements are - some may require a seminary degree while others may require none, so a quality undergraduate degree might be a viable option.
It's worth noting that many of our recommended programs below do require students to spend some time onsite, but such requirements are intensive one week seminars or the like, so no long term commitments are required. There are, though, programs that are 100% online with no onsite requirements.
Below are some recommended undergraduate and graduate programs in theology that offer fully online degrees. If you know of some quality programs that are absent from the list below, please send us an email so that we can possibly add them to our list.
Theology Degree Online - Some Recommendations
Online Undergraduate Theology/Religion Degrees
Arizona State University
Grand Canyon University
King University
Lee University
Liberty University
Regent University
Online Graduate Theology/Religion degrees
Calvin Theological Seminary
Dallas Theological Seminary
Fuller Theological Seminary
Northwest Nazarene University
Southern Baptist Theological Seminary
Southwestern Baptist Theological Seminary
---
Seminary Advisor

›

Seminary Online

› Theology Degree Online - Your Options