Recommended Reading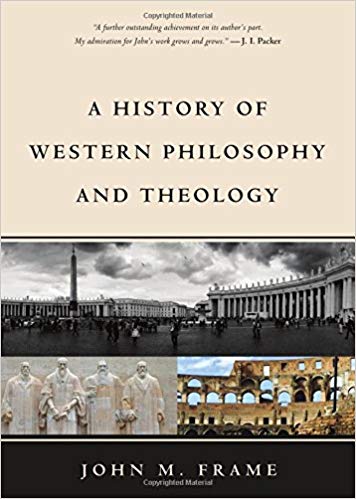 From Amazon.com: "Christians should evaluate philosophy by biblical criteria. This will shed greater light on the developments in the history of philosophy and better prepare us for the intellectual challenges of our time. The fall of Adam brought intellectual as well as moral corruption on the human race, and the effects of the fall can be seen in the work of philosophers, most of whom try to understand the world autonomously through reasoning apart from God's revelation. Some philosophers have appealed to God's revelation, but their work has often been compromised with the wisdom of the world. Revelation should inform reason, and not the other way round. In the past, even Christian theology was corrupted by the movement toward intellectual autonomy, creating the tradition of liberalism, which has unhappily dominated academic theology down to the present day. But there is hope a new generation of Christian thinkers take God's Word seriously. Frame's unique new contribution augments that process."
If you purchase from one of our Amazon.com links, we receive a small commission that helps support this site and does not cost you any extra.
Trinity Evangelical Divinity School



Trinity Evangelical Divinity School Quick Facts
Denominational Affiliation
Evangelical Free

Founded
1963

Theological Orientation
Broadly Evangelical

Degrees Offered
MDiv; MA; ThM; DMin; PhD

Number of Students
c. 1,200

Tuition Costs for 2019 - 2020
Varies depending on program. $720/hr for master's-level programs.

Location
Deerfield, IL

School URL
divinity.tiu.edu
Introduction to Trinity Evangelical Divinity School

---
To say that Trinity Evangelical Divinity School rose from humble beginnings is an understatement. The school's roots can be traced to a bible study formed in the basement of a Chicago church sponsored by the Swedish Evangelical Free Church in 1897. By the early 1960s, Trinity moved to its current location in Deerfield and conferred its first MDiv degree in 1969. Led by evangelical stalwart Kenneth Kantzer, TEDS quickly established itself as a powerhouse of evangelical scholarship.

Since 1995, TEDS has been part of Trinity International University, including the former Trinity College and Trinity Law School. Trinity prides itself on its broadly evangelical focus. Both faculty and students alike represent a wide range of backgrounds though they are all united in their commitment to the evangelical tradition and its focus on the person of Christ and the authority of the Bible.

Academic Life

---
Trinity offers numerous master's level programs to prepare students for ministry in the church as well as in teaching, missions, and counseling. The foundational degree is the MDiv, offered in both a traditional format as well as with an advanced placement option for students who have undergraduate or graduate degrees in related fields.

Trinity also offers a number of MA degrees in numerous fields, including Old Testament, New Testament, Church History, Philosophy of Religion, Systematic Theology, Counseling Ministries, and Educational Ministries.  For students who hold the MDiv, a ThM in a number of concentrations is also available. For advanced students, Trinity offers the DMin as well as the PhD in several fields (Educational Studies, Intercultural Studies, and Theological Studies).

Interested students may take courses in other area schools which are also part of the Northside Chicago Theological Institute (NCTI) and the Association of Chicago Theological Schools (ACTS).

Student Life

---
The faculty and staff of TEDS take the lives of their students very seriously and recognize that seminary involves more than just classroom activity. Many students elect to live on "Living Learning Floors" at Trinity, where students come together to discuss, pray, and integrate faith, practice, and learning. These include the Spiritual Formation Floor and the Compassion and Justice Floor. Interested students may also participate in the Mosaic Gathering, a community made of students, faculty, and staff who are interested in engaging broader social issues of compassion and injustice.

In addition to the above, many Trinity students participate in "Formation Groups." Required of MDiv students, these faculty-led small groups focus upon integration of the classroom and practical ministry and exist as places of encouragement and personal student growth.

Of course, Trinity students have access to all that the greater Chicago area offers, including some of the best museums and libraries in the world. On the Triniy campus itself, students have access to free counseling, health, and fitness services.

Housing
---
Trinity offers numerous housing options for single students and married students (with or without children). For single students, they may elect either TIU apartments or dormitories, with the latter providing options for experiential communities based on shared interests. Married students have options for 1, 2, or 3 bedroom apartments. For students who wish to live off-campus, Trinity's housing office offers assistance in locating suitable arrangements.

Financial Aid

---
TEDS has numerous scholarship available that cover 14% to 100% of tuition as well as various small grants available based on certain criteria. In addition to TEDS-based financial aid, the school participates in federal programs such as the Direct Graduate PLUS loan, Direct Loan, and Perkins Loan.

Location
---
Review Trinity Evangelical Divinity School
---
Share Your Seminary Experiences!
Did you attend or are you attending this school? Please help future students by sharing your experiences, pro and con. Thanks!
---
Seminary Advisor

›

Seminary Schools

› Trinity Evangelical Divinity School