Recommended Reading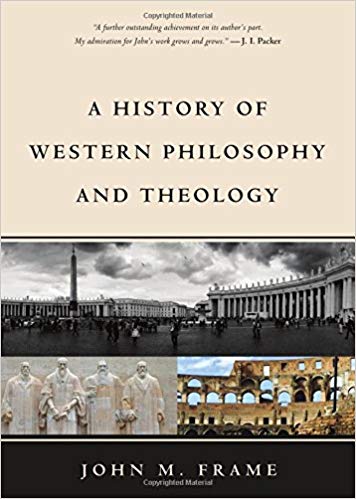 From Amazon.com: "Christians should evaluate philosophy by biblical criteria. This will shed greater light on the developments in the history of philosophy and better prepare us for the intellectual challenges of our time. The fall of Adam brought intellectual as well as moral corruption on the human race, and the effects of the fall can be seen in the work of philosophers, most of whom try to understand the world autonomously through reasoning apart from God's revelation. Some philosophers have appealed to God's revelation, but their work has often been compromised with the wisdom of the world. Revelation should inform reason, and not the other way round. In the past, even Christian theology was corrupted by the movement toward intellectual autonomy, creating the tradition of liberalism, which has unhappily dominated academic theology down to the present day. But there is hope a new generation of Christian thinkers take God's Word seriously. Frame's unique new contribution augments that process."
If you purchase from one of our Amazon.com links, we receive a small commission that helps support this site and does not cost you any extra.
University of Chicago Divinity School



University of Chicago Divinity School Quick Facts
Denominational Affiliation
Non-Denominational

Founded
1891

Theological Orientation
Moderate/Liberal

Degrees Offered
MDiv; AMRS; MA; PhD

Number of Students
c. 318

Tuition Costs for 2018 - 2019
Varies depending on program. $11,382/quarter (MDiv); $12,652/quarter (MA); $18,034/quarter (PhD)

Location
Chicago, IL

School URL
divinity.uchicago.edu
Introduction to University of Chicago Divinity School

---
The history of the University of Chicago Divinity School can be traced to the early history of the school itself. Founded by John D. Rockefeller in 1891, the university's first president - William Rainey Harper - was himself a Baptist minister and believed that theology ought to be studied at the highest level, training both ministers and teachers alike. The university's Divinity School bears witness to the school's origins, having the distinction of being the school's first professional school.

Since its beginnings, the Divinity School has been a world leader in the academic study of religion. The school is by nature interdisciplinary with many faculty holding dual appointments in other departments such as Law, Literature, and Philosophy. Its doctoral program is considered one of the finest in the world, having prepared students for tenure-track positions in some of the world's finest colleges and universities. Furthermore, while the school has excellent resources devoted to the study of Christianity and Judaism, they also provide first-class resources for the study of Buddhism, Hinduism, and Islam.

Academic Life
---
The academic life at Chicago's Divinity School is at once rigorous and broad. The ethos of the Divinity School is one of communal engagement with the deep questions of faith, philosophy, and critical inquiry. The school offers four degrees (MDiv; MA; AMRS; PhD) in addition to several dual degrees (Public Policy, Law, and Social Service Administration).

The school's areas of study have been broken down into several areas, available to all students regardless of concentration: Religious Ethics; Philosophy of Religions; Theology; Bible; History of Christianity; History of Judaism; History of Religions; Anthropology and Sociology of Religion; Religion and Literature; Islamic Studies; Religions in America. Doctoral students choose one area of concentration while master's level students choose from all areas, though they may choose to focus on a particular area.
Student Life

---
Students at the University of Chicago are privy to a wide array of activities simply by virtue of geography, Chicago being home to a vibrant culture. The city hosts numerous museums, sporting facilities, and entertainment option, not to mention some of the best pizza in the world.

Of course, the university itself - including the Divinity School - has much to offer its students. There are numerous clubs based on shared academic and personal interests, as well as clubs formed around causes such as LGBT or environmental concerns. The university has a popular intramural sports program, and divinity students are often competitive in many programs, particularly volleyball and flag football. For more sedentary social activities, the school coffee shop - Grounds of Being - is a popular choice.

Housing
---
The university offers numerous options for housing for graduate students, including divinity students. There are apartments available for single students, students with pets, and students with families. Another option for divinity students is the Disciples Divinity House, offering a shared living community for residents as well as lectures and chapel services.

Financial Aid

---
Chicago offers generous financial aid in the form of tuition scholarships to both MA and MDiv students. A few students receive a stipend in addition to tuition. PhD students receive tuition in addition to a generous stipend as well as health insurance. The university also participates in federal student loan programs and assists students in finding employment.

Location

---
Review University of Chicago Divinity School
---
Share Your Seminary Experiences!
Did you attend or are you attending this school? Please help future students by sharing your experiences, pro and con. Thanks!
---
Seminary Advisor

›

Seminary Schools

› University of Chicago Divinity School