Recommended Reading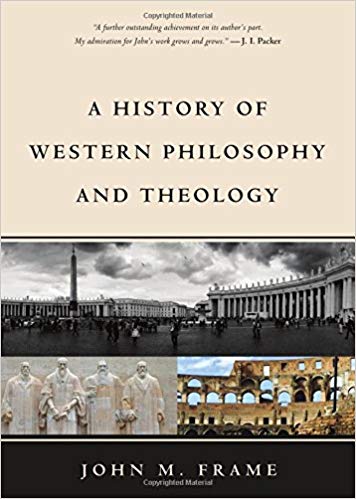 From Amazon.com: "Christians should evaluate philosophy by biblical criteria. This will shed greater light on the developments in the history of philosophy and better prepare us for the intellectual challenges of our time. The fall of Adam brought intellectual as well as moral corruption on the human race, and the effects of the fall can be seen in the work of philosophers, most of whom try to understand the world autonomously through reasoning apart from God's revelation. Some philosophers have appealed to God's revelation, but their work has often been compromised with the wisdom of the world. Revelation should inform reason, and not the other way round. In the past, even Christian theology was corrupted by the movement toward intellectual autonomy, creating the tradition of liberalism, which has unhappily dominated academic theology down to the present day. But there is hope a new generation of Christian thinkers take God's Word seriously. Frame's unique new contribution augments that process."
If you purchase from one of our Amazon.com links, we receive a small commission that helps support this site and does not cost you any extra.
Vanderbilt Divinity School



Vanderbilt Divinity School Quick Facts
Denominational Affiliation
Non-Denominational

Founded
1875

Theological Orientation
Liberal

Degrees Offered
MDiv; MTS; MA; PhD

Number of Students
c. 241

Tuition Costs for 2018 - 2019
$937/hr

Location
Nashville, TN

School URL
divinity.vanderbilt.edu
Introduction to Vanderbilt Divinity School

---
Vanderbilt Divinity School was originally the Biblical Department of the university under the government of the Methodist church. By 1915, the Biblical Department had become the Divinity School, and it also became independent of any ecclesial affiliation. Another milestone occurred in 1966 when Oberlin College's Graduate School of Theology merged with Vanderbilit, increasing the resources of the divinity school, including faculty and library materials.

Since its inception, VDS has been known for its progressive stances on race, gender, and sexual equality, a reputation that is still in force today. Numerous faculty offer courses on a wide range of social justice issues, including feminism, womanism, and LGBT-topics.
Academic Life

---
Vanderbilt offers two foundational degrees in theology - the MDiv and MTS. Generally, the MDiv balances academic study with practical ministry whereas the MTS has a sole academic focus. Still, for students interested in further graduate work, both the MDiv and MTS are viable choices. Interested students can also pursue dual degrees in divinity and business, law, nursing, and medicine.

In addition to the foundational MDiv and MTS degrees, the divinity school (in conjunction with the graduate school) offers the MA and PhD in Religion, with concentrations in ethics and society; Hebrew Bible; historical studies; history and critical theories of religion; homiletics and liturgics; New Testament and early Christianity; religion, psychology, and culture; theological studies.

Student Life

---
Divinity students at Vanderbilt enjoy the resources not only of a major university but also of a major metropolitan area that has much to offer students and their families. The divinity school offers many opportunities for students to engage each other and their professors outside of the classroom. Monday Forum, Community Worship, Friday Coffee Hour, and Friday Eucharist are just a few of the school-sponsored activities where students and faculty to fellowship beyond the academic life. A wide range of student organizations based on shared political or theological convictions are also available.

Of course, as students of a major research university, there are plentiful facilities to support mind and body alike during your time at VDS. The Sarratt Student Center offers everything from films and an art studio to a restaurant and coffeehouse. Vanderbilt offers an incredible Recreation Center with numerous options, including courts for basketball, squash, tennis as well as a 2.5x Olympic size pool, aerobics rooms, weight rooms, and indoor and outdoor tracks.

If the facilities offered by Vanderbilt aren't enough, the Nashville itself has enough to offer students who want to engage the city's broad cultural offerings. Sure, there's country music aplenty, but Nashville is so much more, with enough museums, nightclubs, and restaurants to keep you busy when you're not studying.

Housing
---
Vanderbilt does not offer graduate student housing of any kind; however, the Disciples Divinity House of Vanderbilt offers very affordable housing to both Disciples of Christ students and non-Disciples students. Furthermore, there are a number of affordable, attractive living options in the Nashville area, and most students have found Nashville to have a lower cost of living than other metropolitan areas. To help students find housing, the Divinity School publishes a student housing guide every year for new and returning students.

Financial Aid

---
Vanderbilt offers generous financial to its students. Students in the MDiv and MTS programs may receive awards covering amounts ranging from full tuition plus stipend to partial tuition coverage. Need-based aid is available through the graduate school, offering work-study and student loan options. Doctoral students are awarded full tuition plus a generous stipend and health insurance for four - six years.

Location
---
Review Vanderbilt Divinity School
---
Share Your Seminary Experiences!
Did you attend or are you attending this school? Please help future students by sharing your experiences, pro and con. Thanks!
---
Seminary Advisor

›

Seminary Schools

› Vanderbilt Divinity School