Recommended Reading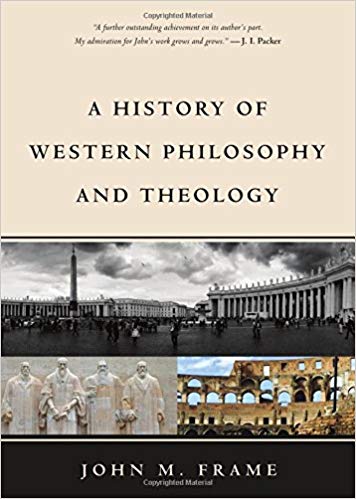 From Amazon.com: "Christians should evaluate philosophy by biblical criteria. This will shed greater light on the developments in the history of philosophy and better prepare us for the intellectual challenges of our time. The fall of Adam brought intellectual as well as moral corruption on the human race, and the effects of the fall can be seen in the work of philosophers, most of whom try to understand the world autonomously through reasoning apart from God's revelation. Some philosophers have appealed to God's revelation, but their work has often been compromised with the wisdom of the world. Revelation should inform reason, and not the other way round. In the past, even Christian theology was corrupted by the movement toward intellectual autonomy, creating the tradition of liberalism, which has unhappily dominated academic theology down to the present day. But there is hope a new generation of Christian thinkers take God's Word seriously. Frame's unique new contribution augments that process."
If you purchase from one of our Amazon.com links, we receive a small commission that helps support this site and does not cost you any extra.
Wesley Biblical Seminary


Wesley Biblical Seminary Quick Facts
Denominational Affiliation
Multi-denominational
Founded
1974

Theological Orientation
Conservative
Degrees Offered
MDiv; MA; DMin
Number of Students
c. 70
Tuition Costs for 2018 - 2019
$495/hr
Location
Jackson, MS
School URL
wbs.edu
Introduction to Wesley Biblical Seminary
---
Though firmly committed to the Wesleyan theological tradition, Wesley Biblical Seminary is a multi-denominational seminary that currently boasts students from over thirty different denominational backgrounds. WBS makes its home in Jackson, MS, though students may now pursue degrees online as well as through traditional face-to-face instruction. At once Wesleyan and Evangelical, WBS seeks to prepare students to share the gospel of Jesus Christ in the 21st century through concentrated theological study and active practice of their faith in a community centered on the transformative power of the Christian faith.
Academic Life
---
WBS offers several master's level degrees, including the MDiv (with emphases in General Ministry, Biblical Languages, Teaching, and Honors Research) and MA (with emphases in Apologetics, Biblical Literature, Christian Studies, and Theology). The DMin is also available to those who hold the MDiv (or equivalent) and are actively engaged in ministry.
Student Life
---
Of particular importance to WBS is the spiritual development of its students. To that end, required chapel services are held every Tuesday and Thursday at 10:00 am during the school year. While the seminary does not currently offer cafeteria facilities, many students bring their lunch and eat together in the Student Lounge area, a common meeting and studying area for WBS students.
Members of the WBS community  also benefit from studying in Jackson, the capital of Mississippi and a significant depository of southern culture. Just a sample of the cultural outings available to Jackson residents are the Mississippi Children's Museum, Mississippi Museum of Art, Mississippi Museum of Natural Science, and Mississippi Sports Hall of Fame and Museum. During the year, students may enjoy trips to the Crossroads Film Festival, Mississippi State Fair, and Jackson Rhythm & Blues Festival. WBS students will find plenty of outings for single students and families alike.

Housing
---
While WBS does not offer student housing they have partnered with a local apartment complex to offer one and two bedroom apartments. The seminary student development office also assists students in finding affordable, comfortable housing for each family's needs.
Financial Aid
---
WBS offers institutional scholarship aid based on GPA and the number of hours a student takes per semester. In addition to scholarship funds, WBS students are eligible for Federal Unsubsidized Student Loans as well as various loan grants that can be paid back through service to a local church.
Location
---
Review Wesley Biblical Seminary
---
Share Your Seminary Experiences!
Did you attend or are you attending this school? Please help future students by sharing your experiences, pro and con. Thanks!
---
Seminary Advisor

›

Seminary Schools

› Wesley Biblical Seminary