Recommended Reading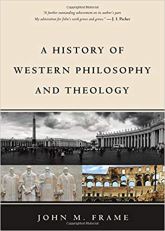 From Amazon.com: "Christians should evaluate philosophy by biblical criteria. This will shed greater light on the developments in the history of philosophy and better prepare us for the intellectual challenges of our time. The fall of Adam brought intellectual as well as moral corruption on the human race, and the effects of the fall can be seen in the work of philosophers, most of whom try to understand the world autonomously through reasoning apart from God's revelation. Some philosophers have appealed to God's revelation, but their work has often been compromised with the wisdom of the world. Revelation should inform reason, and not the other way round. In the past, even Christian theology was corrupted by the movement toward intellectual autonomy, creating the tradition of liberalism, which has unhappily dominated academic theology down to the present day. But there is hope a new generation of Christian thinkers take God's Word seriously. Frame's unique new contribution augments that process."
If you purchase from one of our Amazon.com links, we receive a small commission that helps support this site and does not cost you any extra.
A different outlook on being a seminary
by Mike Reno
(Rolla, MO)
I am a third-year student who is about to graduate with a Masters in Divinity degree in just a few more weeks. For three years I have traveled 280 miles to Memphis to attend classes and then returned back home on the weekends.


What I will say about this seminary is that it is a no-nonsense institution that will not get in the way of the dedicated student seeking his or her degree. I was able to schedule all my classes, including biblical Hebrew and Greek, into a three-year program of about 96 credit hours. The professors hold Doctor of Philosophy degrees in all core classes, and most adjunct professors usually possess a Doctor of Ministry degree.
As a dedicated student myself, I disagreed with my professors at times, but I never felt that I was unable to express disagreement, and in this open discourse and dialog with them I discovered a richly educated faculty that maintained very strong values of scholarship balanced with their personal senses of piety. This careful balance was also accompanied by a radical and refreshing sense of justice throughout the whole body.
It is true that the campus is small and simple--at first glance. However, the student soon becomes aware the campus is really extended into that great city of Memphis. The school's physical boundaries may only be the small area of university buildings and parking lots, but the work of the school extends by ministry and mission into the whole surrounding community. This is the core source of that radical sense of justice I previously mentioned.
The faculty works within and without the campus, and while the studies learned in class point to the work being done outside the campus, that outside work then returns with refreshing and new ideas on what Christian Education may become. Memphis Theological Seminary is delightfully vibrant by this emergent and immediate feedback coming from the field into the classroom.
Another fine characteristic that is a gem of this university is its diversity, not because it selected diversity to be one of its crowning jewels, but rather in being and becoming a living institution of learning it has become a diverse body that is not commonly found elsewhere. Women and men from over thirty denominations come together from around the world to form a multicultural environment that will enrich any student's core views on theology, Christianity, and the world.
Any student that remains unchanged by their time at MTS does so only through their own stubbornness to resist change. Likewise, any student who seeks an education in evolving ministry and service will be richly rewarded.
I was rewarded well, and I am very happy with my choice to attend MTS. It was worth the drive each week to attend this fine institution. I will miss the community I came to know here, but I know I will take a lasting part of it with me wherever I go in ministry.