Recommended Reading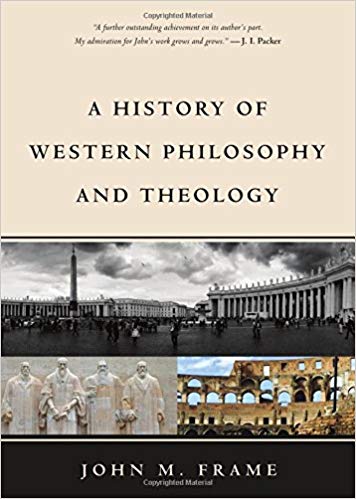 From Amazon.com: "Christians should evaluate philosophy by biblical criteria. This will shed greater light on the developments in the history of philosophy and better prepare us for the intellectual challenges of our time. The fall of Adam brought intellectual as well as moral corruption on the human race, and the effects of the fall can be seen in the work of philosophers, most of whom try to understand the world autonomously through reasoning apart from God's revelation. Some philosophers have appealed to God's revelation, but their work has often been compromised with the wisdom of the world. Revelation should inform reason, and not the other way round. In the past, even Christian theology was corrupted by the movement toward intellectual autonomy, creating the tradition of liberalism, which has unhappily dominated academic theology down to the present day. But there is hope a new generation of Christian thinkers take God's Word seriously. Frame's unique new contribution augments that process."
If you purchase from one of our Amazon.com links, we receive a small commission that helps support this site and does not cost you any extra.
Memphis Theological Seminary



Memphis Theological Seminary Quick Facts
Denominational Affiliation
Cumberland Presbyterian

Founded
1908

Theological Orientation
Moderate

Degrees Offered
MDiv, MA (Religion or Youth Ministry), DMin

Number of Students
c. 299

Tuition Costs for 2018 - 2019
$580/hr

Location
Memphis, TN

School URL
memphisseminary.edu
Introduction to Memphis Theological Seminary

---
The history of Memphis Seminary is intrinsically tied to the history of the Cumberland Presbyterian Church, a denomination that can be traced to the Second Great Awakening and is known partially for its early acceptance of women and African-Americans into ordained ministry. Originally part of Bethel College, in 1956 the seminary was made an independent institution and renamed Cumberland Presbyterian Theological Seminary. With its move to Memphis, TN in 1964, the school's named was changed to its current incarnation, Memphis Theological Seminary.

While a relatively small seminary, the school nevertheless enjoys a solid reputation in educating students from many denominational backgrounds (over 30 currently) for ordained ministry and other callings. In order to accommodate working students, each class is taught in three hour blocks and meets only once per week. As the school motto intimates, the three pillars are scholarship, piety, and justice, a balance the seminary tries to maintain with all students.
Academics
---
Memphis Seminary currently offers the MDiv, MA (concentration in either Religion or Youth Ministry), and DMin degrees. A Korean Doctor of Ministry degree is also available. For students who feel called to ministry but for whom a full seminary education is inaccessible, the school offers the Program of Alternate Studies, a certificate program aimed educating potential ministers in the Cumberland Presbyterian Church who are unable to attend seminary, a mission the denomination has long recognized since its founding. The school's interdisciplinary program in Theology and the Arts is also a distinctive feature of MTS, attempting to bridge the gap between the academic study of theology and the practical application of the arts.

Student Life

---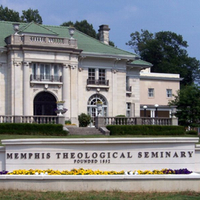 Compared to many seminaries and university divinity schools with sprawling campuses and many on-campus extra-curricular offerings, Memphis Seminary might seem wanting. Sure, there's a student center where you can grab a cup of coffee and meet with colleagues, but there's just not a lot of "activities" to do on campus. Still, don't assume that means there's nothing exciting happening on campus. Students take their community at MTS very seriously, and you can often find students meeting with each other or with faculty for prayer or discussions outside of the classroom, including a weekly chapel service.

Of course, you should remember the name of the school - MEMPHIS Theological Seminary. There are scores of things to do in this wonderful, historical town. You can head down to Beale Street for some authentic Memphis blues and first-rate cuisine. If you're a real music fan, you can take a tour of the Gibson Memphis Factory or check out Sun Studios. Don't forget to check out Graceland when you've got a minute. There are also numerous museums, an IMAX theater, and countless other ways to spend your time when you're not studying Greek and Hebrew.
Housing
---
To facilitate travel to campus for the large number of commuter students, the seminary owns and maintains a group of duplexes and homes available for seminary students to rent on a nightly basis, located only a block away from the seminary campus. There are a few units available for full-time students to rent monthly.

Financial Aid

---
Not wanting its students to enter the ministry with undue financial hardship, Memphis Seminary offers its students many ways to fund their theological education, including scholarships, tuition discounts, students loans, and employment. There are a number of scholarships available based on specific criteria (e.g. financial need; undergraduate major; PCUSA students). There are also tuition discounts up to 100% of tuition. The school also participates in the Federal Stafford Loan program.

Location
---
Review Memphis Theological Seminary
---
Share Your Seminary Experiences!
Did you attend or are you attending this school? Please help future students by sharing your experiences, pro and con. Thanks!
What Other Visitors Have Said
Click below to see contributions from other visitors to this page...

A different outlook on being a seminary Not rated yet
I am a third-year student who is about to graduate with a Masters in Divinity degree in just a few more weeks. For three years I have traveled 280 miles …
---
Seminary Advisor

›

Seminary Schools

› Memphis Theological Seminary